Heliox enters North American market. US headquarter established in Atlanta
Commercial vehicle's charging systems provider Heliox, based in the Netherlands announced that it has expanded in the North American market, and has hired David Aspinwall as President for the North American operations. Aspinwall joins Heliox from Bekaert, where he was Vice President of Strategy. He will lead all aspects of Heliox's North American operations–which he […]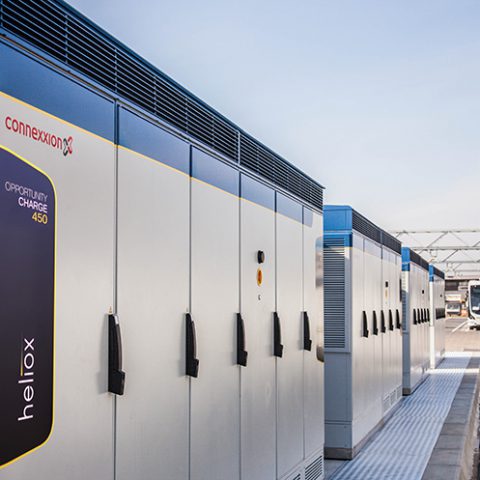 Commercial vehicle's charging systems provider Heliox, based in the Netherlands announced that it has expanded in the North American market, and has hired David Aspinwall as President for the North American operations.
Aspinwall joins Heliox from Bekaert, where he was Vice President of Strategy. He will lead all aspects of Heliox's North American operations–which he plans to scale to more than 70 people within the next year, the company says in a press release.
Heliox has over 1,600 fast charging points worldwide, including one of the world's largest e-bus projects at Schiphol Airport in the Netherlands in the framework of one of the largest e-bus fleets in Europe, launched in 2018. Largest Heliox project in Germany has been recently implemented in Wiesbaden.
A mobile charger as starting point for North American operations
Heliox's mobile 50kW charger, which is lightweight, on wheels, and uses existing infrastructure, can serve as an entry point for organizations that are ready to enter the e-mobility market.
Heliox's North American HQ will be based in Atlanta, a growing e-mobility hub, and will serve as the corporate office and research and development hub. Heliox will manufacture and assemble all products for the North American market in the United States meeting all UL and Buy America standards.
Heliox in North America
Heliox mentions Biden commitment in spending «$20 billion to electrify at least 20% of school buses and $25 billion on electric transit vehicles as part of the $2.3 trillion infrastructure and jobs plan. To support this initiative, the U.S. needs to create a charging infrastructure to support rapid electric mobility expansion».
"Heliox's solutions are the perfect fit providing modularity and scalability for every electric vehicle," said Heliox's CEO Michael Colijn. "David will be instrumental in growing our operations as both businesses and transit systems look to ramp up electric transportation product offerings and initiatives."
"Heliox is the technical leader in the field and offers state-of-the-art products, a complete end-to-end service, and the global experience to meet the needs of the growing North American market," said David Aspinwall. "We're already working with a number of U.S. customers to accelerate electric transportation initiatives."