Hitachi Energy will electrify Bus Éireann's Limerick depot in Ireland
Irish national bus company Bus Éireann has appointed Hitachi Energy Ireland to deliver the first phase of electrifying the depot at Roxboro, following a competitive tender process. This project is funded by the National Transport Authority as part of the transformation of Ireland's urban bus fleets to zero tailpipe emission vehicles. According to plans, this […]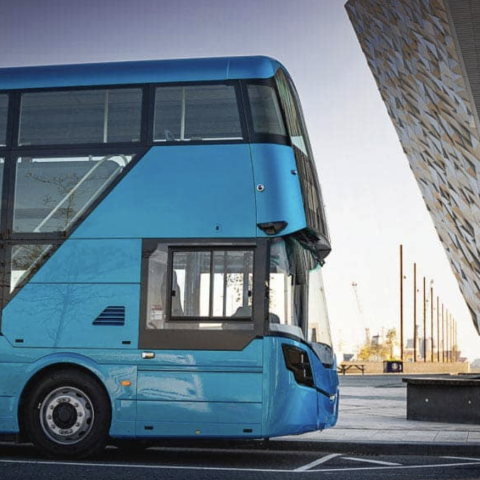 Irish national bus company Bus Éireann has appointed Hitachi Energy Ireland to deliver the first phase of electrifying the depot at Roxboro, following a competitive tender process. This project is funded by the National Transport Authority as part of the transformation of Ireland's urban bus fleets to zero tailpipe emission vehicles.
According to plans, this work will be completed in advance of the delivery of 20 double-deck battery electric buses, purchased by the National Transport Authority to operate on Limerick city routes, out of the 120 ordered last year (within a up to 800-units framework agreement with Wrightbus).
Wrightbus electric buses to run in Limerick
Limerick will be the first regional city in Ireland to introduce fully electric vehicles. Combined with the 20 hybrid vehicles already operating in Limerick, the TFI Limerick City fleet will be either zero or low tailpipe emissions from early 2024.
Hitachi will work with Bus Éireann to deliver a new on site MV electricity substation, install 24 charge points, carry out all civil & cabling works and the commissioning of the charging infrastructure.
Bus Éireann carries c.4.5 million passengers on its seven Limerick city routes each year. These are public service obligation routes, operated under contract to the National Transport Authority.
Bus Éireann turns to zero emission buses
"It is just over three months since the Athlone town bus service became fully electric and the project has been very successful to date with 100,000 kilometres operated safely and without incident," said Stephen Kent, Chief Executive Officer, Bus Éireann. "Passenger numbers are at record levels, 77 tonnes of carbon emissions have been avoided and at this early stage, it appears that the range being achieved is up to 20% better than expectations.
"Our experience from Athlone has only increased our enthusiasm for the transformation of our urban operations to battery electric vehicles and we are very pleased to partner with Hitachi in the delivery of this project. The electrification of the depot at Roxboro will really change public transport in Limerick for the better, in terms of environmental impact and also a greatly enhanced customer experience with quieter, smoother journeys.
"Combined with the NTA's BusConnects and investment in a new bus station at Colbert, Limerick will be in the forefront of bus public transport developments this year," he concluded.