Kempower ready to launch a 400kW-capable liquid-cooled charging cable
Kempower has launched a new version of its Kempower S-Series charging satellite system featuring liquid-cooled charging, capable of delivering 400kW of continuous charging power. Kempower will showcase the Kempower S-Series liquid-cooled charging satellite system at EVS35, between June 11th-15th in Oslo, Norway. The product will subsequently be available globally, with deliveries expected to begin in the […]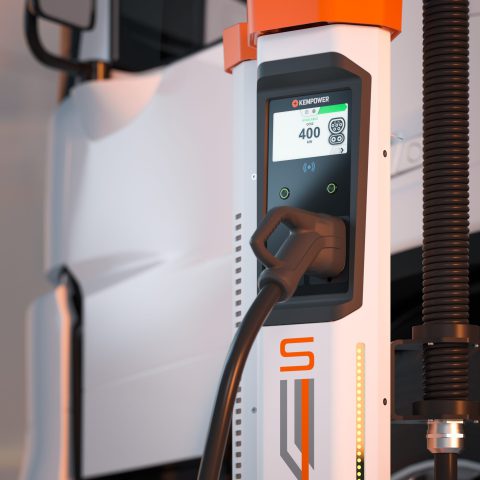 Kempower has launched a new version of its Kempower S-Series charging satellite system featuring liquid-cooled charging, capable of delivering 400kW of continuous charging power.
Kempower will showcase the Kempower S-Series liquid-cooled charging satellite system at EVS35, between June 11th-15th in Oslo, Norway. The product will subsequently be available globally, with deliveries expected to begin in the third quarter of 2022.
Liquid-cooled cables to reach 400 kW
The new charger model looks similar to Kempower's existing S-Series charging satellite system, with the liquid-cooled cables replacing the traditional air-cooled cables. It also features the same user interface and experience as the company's current satellite charger.
Providing 400kW of continuous power means that the liquid-cooled satellite charger will enable vehicles to be charged more quickly by delivering higher power.
"We drew upon the Kemppi Group's 70 years of welding heritage and expertise in cooling welding cables during the development of this product, guaranteeing high levels of safety and quality. Our customers can install liquid and air-cooled fast charging satellites in separate charging systems or combine both products into the same system, optimizing investment costs while dynamically allocating unused power to different charging satellites. Our technology also makes it possible to prioritize the liquid-cooled charging satellites to always receive full power, dynamically redistributing power when other satellites are being used," commented Tomi Ristimäki, Kempower's CEO.
"We believe that electric will be the winning technology for heavy-duty vehicles in the long run. This product launch is the latest example of how we're supporting its development," Ristimäki added.