Lightning eMotors unveils 2nd generation mobile charger (with up to 420 kWh capacity)
Lightning eMotors unveils its second-generation Mobile charger for commercial and consumer electric vehicles (EV). Just a few days ago the company announced the expansion of its zero-emission Type A school bus offering (together with Collins Bus) to include both GM and Ford chassis platforms. Each modular unit offers between 105 to 420 kWh battery capacity and provides the option of up to 5 DC fast-charging outputs. The new systems are currently available […]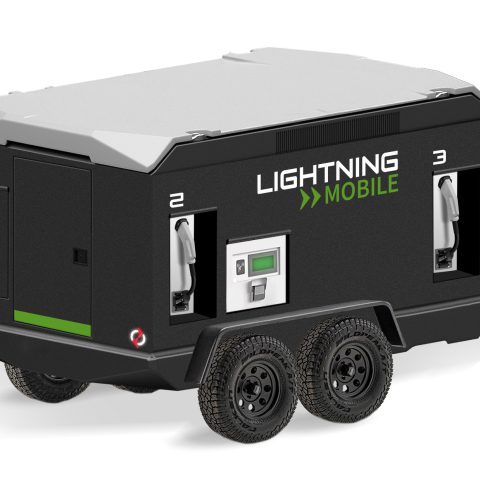 Lightning eMotors unveils its second-generation Mobile charger for commercial and consumer electric vehicles (EV).
Just a few days ago the company announced the expansion of its zero-emission Type A school bus offering (together with Collins Bus) to include both GM and Ford chassis platforms.
Each modular unit offers between 105 to 420 kWh battery capacity and provides the option of up to 5 DC fast-charging outputs. The new systems are currently available to order for delivery in late 2022.
The mobile DC fast charger is set to offer rapid deployment of reliable charging capabilities in locations where static charging stations are not possible or that only have Level2 power available—all without the constraints associated with installing static charging stations.
Lightning eMotors launch new mobile charger
The next-generation Lightning Mobile solution was designed, engineered and developed over a 12-month period of learnings from operating the first-generation prototype. "Engineers rigorously tested the prototype and its capabilities to develop a next generation charging capability which has been proven to be the ideal solution for charging commercial trucks, vans, buses and cars at remote locations, events and depots", Lightning eMotors say.
"We're incredibly excited to bring our next-generation Lightning Mobile charging solution to the market to address the growing need for readily available, mobile, and flexible DC fast- charging," Lightning eMotors CEO Tim Reeser said. "Lightning Mobile provides a much-needed charging solution for everything from mobile disaster relief and rescue to intermittent charging points at facilities like sports stadiums, which need an EV charging and power solution in various locations. It can also serve as a short or medium-term charging solution for fleets to rapidly deploy EVs while waiting for permanent infrastructure to be installed."
"A recent survey found that 90% of fleet managers believe electric vehicles will be the future of commercial fleets," said Brandon McNeil, vice president of Lightning Energy. "Lightning's next generation mobile charger can support an accelerated rate of electric commercial vehicle adoption while their depot charging is being installed, a process that, unfortunately, can take a long time."