Rocsys received $36M (half from EIB) funding to scale operations of its autonomous charging systems
Rocsys, a Holland-based company specializing in autonomous charging systems for electric vehicles, including trucks and buses (here's an interview by our sister media Sustainable Truck & Van with CEO and co-founder, Crijn Bouman) received $36 million new funding to bring the project to a former step forward. Led by SEB Greentech Venture Capital, the round […]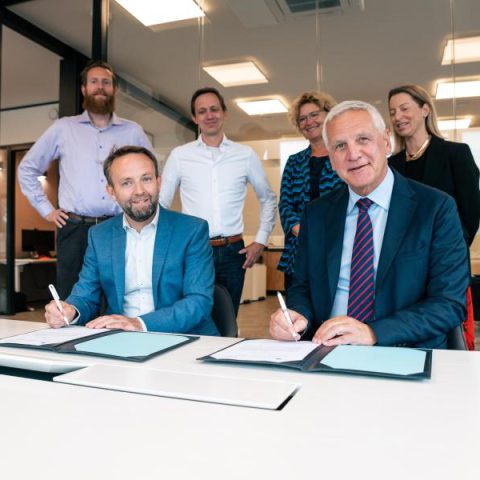 Rocsys, a Holland-based company specializing in autonomous charging systems for electric vehicles, including trucks and buses (here's an interview by our sister media Sustainable Truck & Van with CEO and co-founder, Crijn Bouman) received $36 million new funding to bring the project to a former step forward.
Led by SEB Greentech Venture Capital, the round also includes participation from Graduate Entrepreneur, the European Investment Bank, and returning investor Forward.One. With this latest investment, which includes a roughly equal split of debt and equity financing, Rocsys aims to expand the capabilities of its platform scaling its presence in the United States and Europe.
Rocsys combines the power of robotics and AI to streamline the electric vehicle experience by enabling autonomous charging. We believe that this technology will significantly contribute to the global adoption of zero-emission vehicles among both consumers and fleets while moving us closer to a world of fully autonomous mobility

Crijn Bouman, Rocsys Co-founder and CEO
Rocsys gets funding from EIB
With the European Investment Bank Rocsys signed a €18 million quasi-equity deal. The EIB financing for the project is made possible with the support of the InvestEU programme, which aims to mobilise over €372 billion in additional investment for EU policy priorities over the period 2021-2027.
How will such an amount fo money be employed by Rocsys? "This $36 million investment will help us rapidly scale our operations in several ways. We'll continue expanding our presence in Europe while bringing more operations, customer service, and manufacturing to the United States and growing our team dedicated to partnering with automakers. On the R&D front, we'll use the funding to build new features for our platform, such as automated parking guidance, comprehensive software integrations, and additional remote diagnostics and teleoperations support", added Bouman.
Founded in 2019 and headquartered in the Netherlands, with US operations based out of Portland, Oregon, Rocsys is setting the standard for the future of autonomous charging with leading roles in industry consortia and strategic partnerships with multinational corporations and original equipment manufacturers (OEMs).
"Rocsys combines the power of robotics and AI to streamline the electric vehicle experience by enabling autonomous charging. We believe that this technology will significantly contribute to the global adoption of zero-emission vehicles among both consumers and fleets while moving us closer to a world of fully autonomous mobility," said Rocsys Co-founder and CEO Crijn Bouman. "This recognition and investment from the EIB shows that our vision is aligned with the key institutions shaping the future of sustainable transportation."
European Commissioner for the Economy Paolo Gentiloni added: "Decarbonising our economies requires substantial and continuous investment in innovative technologies. I am proud of the significant contribution that InvestEU is making in this context. This agreement will support an infrastructure innovator business in the Netherlands developing autonomous robotic charging solutions. It will unlock the necessary resources at a critical stage of the technological development, while advancing important goals for the green transition such as a sustainable and clean modes of transport."
EIB Vice-President Kris Peeters commented: "With the increasing popularity of both private and professional electric vehicles, robotic charging can seriously improve the efficiency and convenience of charging operations. This, in turn, can help to accelerate the transition towards zero-emission electric vehicles, which is crucial for decarbonising our economies. After LeydenJar, Rocsys is yet another Dutch company that can have an important impact on the electric vehicle sector."