Iveco Bus to offer ChargePoint's fleet software tools within its connected services
Iveco Bus and ChargePoint have signed an agreement allowing Iveco Bus to offer ChargePoint's fleet software portfolio to its European customer base. The combined expertise of the two companies "will support transport operators in their transition to electromobility providing a best-in-class offering to operate their fleet and charging infrastructure", partners state. Iveco Bus and ChargePoint: […]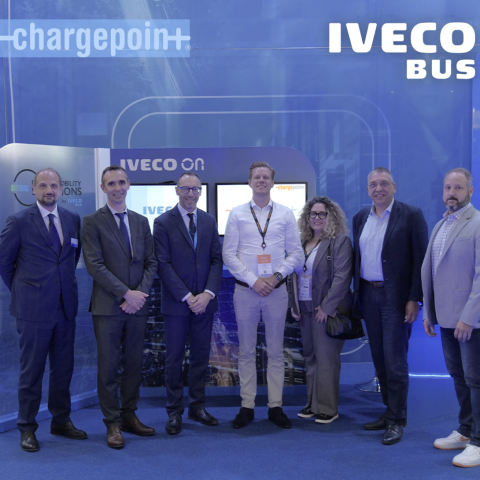 Iveco Bus and ChargePoint have signed an agreement allowing Iveco Bus to offer ChargePoint's fleet software portfolio to its European customer base.
The combined expertise of the two companies "will support transport operators in their transition to electromobility providing a best-in-class offering to operate their fleet and charging infrastructure", partners state.
Iveco Bus and ChargePoint: an agreement
This solution will make available to operators' data on the status of their vehicles, batteries and charging infrastructure, enabling them to optimize the management of their fleet. This will allow for proactive monitoring for charge management, range forecasting, streamlined delivery route and schedule planning – simplifying the management of vehicle operations.
A smart charging management feature and a depot management tool linked to the bus operating schedule are also available, Iveco Bus and ChargePoint underlines. These services will allow for optimal management of the energy available for charging, with consequent costs reduction for the operator.
This new service extends the offering of Iveco Bus connected services. This new offer allows the manufacturer to provide its customers with an in-house agnostic solution with new and extended functionalities, strengthening its position as a specialist in complete electric mobility solutions.
Iveco Bus – ChargePoint: focus on fleet management
"The partnership between Iveco Bus and ChargePoint is very good news for our customers. We can now offer, in an integrated way, fleet management from the Iveco Bus vehicles data and the charging stations, in addition to smart charging and depot management. In this way, bus depots can be managed via a single tool, which is in line with the Iveco Bus strategy to provide turn-key solutions.", said Marco Franza, Head of Energy Management Solutions, Iveco Group.
"The move to zero emission fleets is accelerating rapidly across Europe, as fleet managers embrace electrification to deliver a lower total cost of ownership" said André ten Bloemendal, Senior Vice President Europe, at ChargePoint. "Rolling out our cloud-based fleet management solution with bus OEM leader Iveco Bus demonstrates our shared commitment to fleet electrification in Europe, and together delivers integrated solutions for fleets as they shift to electric vehicles."
---
In the opening picture, from left to right: Marco Franza – Head of Bus Customer Service and Energy Mobility Solutions, Iveco Group, Stéphane Espinasse – IVECO BUS Head of Sales & Products, Philippe Grand – IVECO BUS Product manager Digital Services Bus, Ruud de Windt – ChargePoint Partnership Manager, Bus OEMs Europe, Simonetta Camilloni – Regional Account Manager, France and Southern Europe, Uwe R. Münch – ChargePoint Director, Bus Europe and Rich Mohr- SVP North America, former Global VP of Fleet