Via and Uber sign partnership: Uber drivers will be integrated into Via-powered transportation offer
Via and Uber have joined forces in order to provide customers with a seamless integration of Uber drivers into Via-powered paratransit and microtransit options. This partnership aims to elevate transportation efficiency and convenience while harnessing innovative technology. Via customers can now complement their dedicated fleets with additional vehicles and drivers from the Uber network. Via […]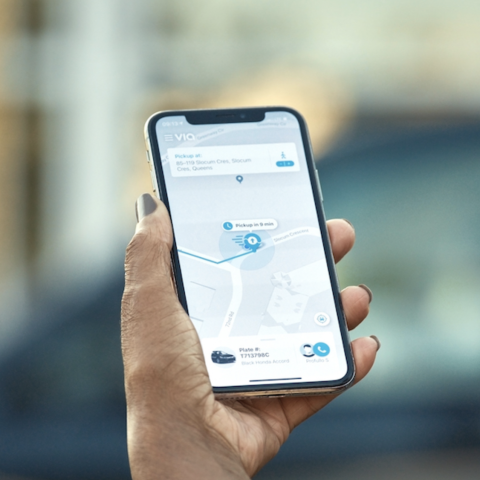 Via and Uber have joined forces in order to provide customers with a seamless integration of Uber drivers into Via-powered paratransit and microtransit options. This partnership aims to elevate transportation efficiency and convenience while harnessing innovative technology.
Via customers can now complement their dedicated fleets with additional vehicles and drivers from the Uber network.
Via and Uber, a deal to enhance microtransit for agencies
Interestingly enough, in 2019 Via's Co-COO Alex Lavoie was asked by Medill Reports Chicago: "How do you aim to compete in the crowded marketplace against Uber and Lyft?", and gave the following answer: "We are building solutions that we think are closer to providing dynamically routed [on-demand and data responsive] public transit than to a ride-hail service. More of our business is focused on providing services on behalf of the cities. We feel quite excited about the growth in that space. So, we think there's a pretty big differentiator between what we're doing and what Uber and Lyft are doing. We're seeing them less and less as our direct competitors as the public part of our business becomes increasingly our main growth avenue".
This partnership offers transformative opportunities for transit agencies, enabling them to address challenges such as meeting paratransit demand, enhancing microtransit capacity during peak hours, and providing service to off-hours or remote destinations.
Via optimizes existing dedicated fleets and resources while incorporating non-dedicated service providers like Uber. The integration is facilitated by Via's purpose-built routing and dispatching algorithm, ViaAlgo. Via's Operations Center allows agencies to send trips to Uber without workflow changes. Compliance with regulatory requirements is managed by Via.