The bus fleet is under electrification, Basel selects ABB charging technology
ABB will enable the transition to sustainable e-bus operations in the city of Basel by 2027 as part of a large order awarded by Industrielle Werke Basel (IWB). The contract is part of Basel Public Transport's (BVB) efforts to convert its entire bus fleet to battery-electric operations. In one of Switzerland's largest infrastructure projects, BVB […]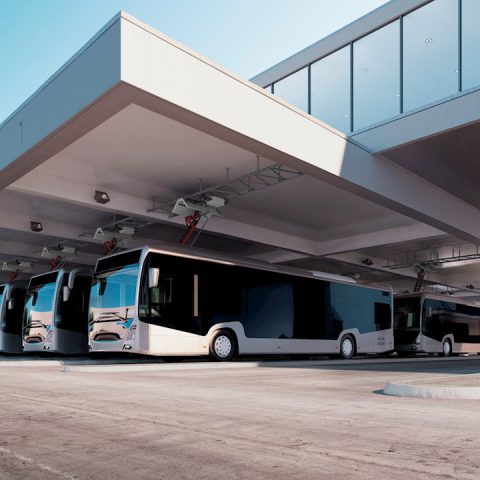 ABB will enable the transition to sustainable e-bus operations in the city of Basel by 2027 as part of a large order awarded by Industrielle Werke Basel (IWB). The contract is part of Basel Public Transport's (BVB) efforts to convert its entire bus fleet to battery-electric operations.
In one of Switzerland's largest infrastructure projects, BVB is fulfilling the legal requirement that all public transport in the canton of Basel-Stadt must run on 100 percent renewable energy by 2027. In addition to the procurement of more than 120 e-buses in two stages (64 already ordered from Hess and Mercedes), an efficient charging infrastructure will also be created. IWB, which is responsible for the power supply, has commissioned ABB as its technology supplier and partner for the project. Financial details of the contract were not disclosed.
Basel: both depot and fast charging
ABB will provide a complete solution for the charging stations and all necessary grid connection hardware, including software for charging infrastructure management and service. In addition to overnight depot charging – initially in two temporary facilities and later in the Rank depot – fast chargers with a capacity of 450 kW will initially be installed at two terminal stops of the city's longer bus routes: EuroAirport and Kleinhüningen.
Only four to six minutes are needed to charge the e-buses at these opportunity charging stations, ABB says. The high-capacity chargers, which are part of ABB's innovative cross-divisional ABB Ability offering of digital solutions and services, provide web-enabled connectivity. This enables operators to remotely monitor and configure charging points, minimizing downtime and optimizing efficiency.
"ABB convinced us with its significant expertise and experience. Even for us at IWB as experts in the field of e-mobility, such a major project does not happen every day. We are delighted to be working on this project together with ABB," said Patrick Wellnitz, Senior Advisor Mobility at IWB.
Zero emission technologies to be put in use
"The technologies needed for emission-free transportation of the future are already available. Now it is a matter of putting them to use," said Frank Muehlon, President of ABB's E-Mobility Division. "We have already proven our expertise as a leading supplier and reliable partner in converting bus lines to electric operation around the world, from Gothenburg and Hamburg to Qatar and Western Australia."
"We are delighted to be able to support IWB and the city of Basel with our electrification and charging solutions as part of this ambitious project," said Daniel Müller, Head of ABB's Electrification Business Area in Switzerland. "We are convinced that it will serve as a role model in the tri-border region of Switzerland-Germany-France and beyond, again demonstrating the opportunities and advantages of clean, quiet and flexible electric mobility."