Abu Dhabi rolls out the first electric bus in the Gulf region. A vehicle developed by Hafilat – Siemens
Abu Dhabi rolls out the first electric bus in the region. The vehicle has 30 seats and was developed by Siemens together with the local bus manufacturer Hafilat and the energy company Masdar. The range? 150 km with one charge, according to the partners. Auxiliary systems are powered with solar panels. Abu Dhabi is United Arab […]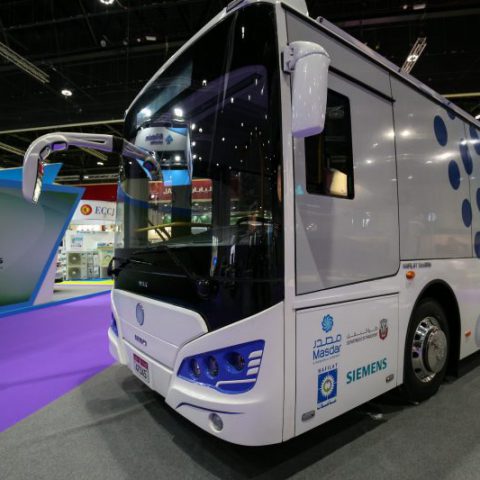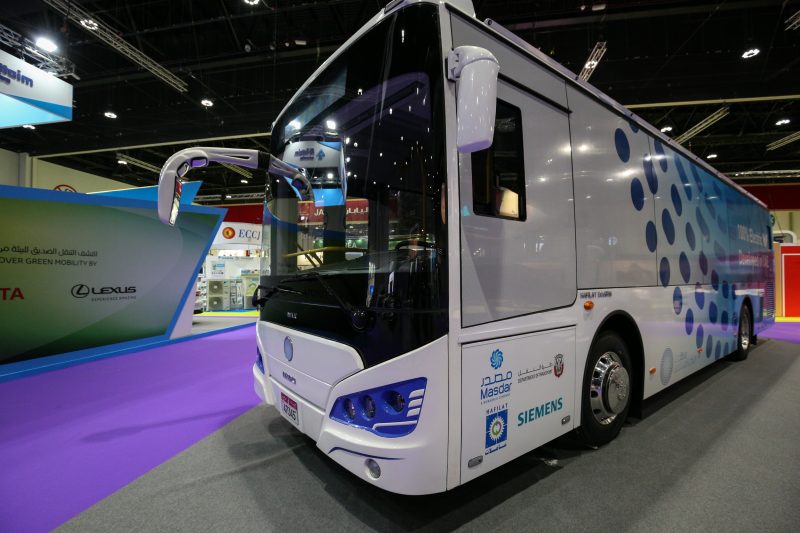 Abu Dhabi rolls out the first electric bus in the region. The vehicle has 30 seats and was developed by Siemens together with the local bus manufacturer Hafilat and the energy company Masdar. The range? 150 km with one charge, according to the partners. Auxiliary systems are powered with solar panels. Abu Dhabi is United Arab Emirates' capital city. The UAE generated over 87% of its electricity in 2015 using natural gas-fired generation. It's committed to producing at least 7% of its total power generation from renewable sources by 2020.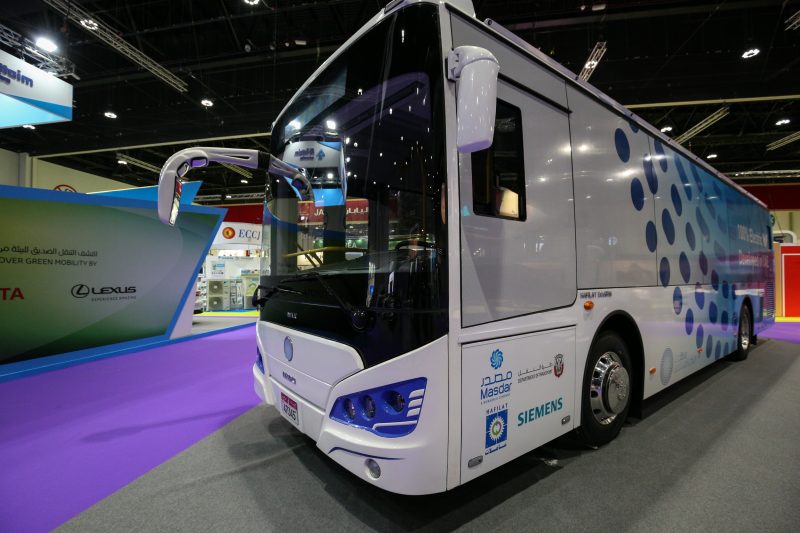 A free of charge route
Masdar (also known as Abu Dhabi Future Energy Company) is responsible of the project, in partnership with the Department of Transport in Abu Dhabi (DoT). The first electric bus in Abu Dhabi serves a route between Marina Mall, Abu Dhabi Central Bus Station and Masdar City. Until the end of March, the ride will be free of charge. Abu Dhabi's DoT was heavily involved in the pilot phase of the Eco-Bus, which carried out extensive tests of the vehicle's technical performance as well as the user experience. Siemens provided the Eco-Bus' traction system, which includes a gearless PEM motor, while Hafilat designed and built the bus. Abu Dhabi first electric bus has a lightweight aluminium body and a water-cooling system developed in order to optimise battery life and efficiency, even when the outdoor temperature is at its highest (a quite common situation in the region…).
Masdar investments in renewable energy projects
Masdar is Abu Dhabi's renewable energy company and wholly owned by Mubadala Investment Company, the strategic investment company of the Government of Abu Dhabi. Abu Dhabi's Masdar City is made up of a rapidly growing clean-tech cluster, business free zone and residential neighborhood with restaurants, shops and public green spaces. Abu Dhabi sees Masdar City is a working model for cities around the world based on the three pillars of environmental, economic and social sustainability. Masdar has invested $8.5bn in renewable energy projects in the UAE (United Arab Emirates) and abroad.
Electric bus milestone for Masdar
The Eco-Bus will be seamlessly integrated into the DoT's existing fleet. "The launch of the Eco-Bus is a milestone for the UAE in a number of ways," said Yousef Baselaib, Executive Director for Sustainable Real Estate at Masdar. "Masdar City has been an incubator of sustainable mobility technologies, including the Personal Rapid Transport system and the Navya Autonom shuttle vehicle."
"This technology has been proven around the world and we're pleased to be bringing it to the UAE for local innovation in efficient, sustainable transportation," said Uwe Troeger, Senior Executive Vice President, Digital Factory and Process Industries and Drives, Siemens Middle East. "This project is a great combination of the right technology and the right partners, and supports the development of environmentally friendly transport infrastructure in the UAE."