17 per cent of ALSA buses run on alternative fuel
Today 17 per cent of ALSA buses run on alternative fuel, as explained by Miguel Angel Alonso, ALSA's Director of Engineering and European Funds, in a story published on IRU website. The goal of the Spain-based company, with operations in Morocco, Portugal, Switzerland, and France, is to operate only zero-emission urban buses by 2035 and […]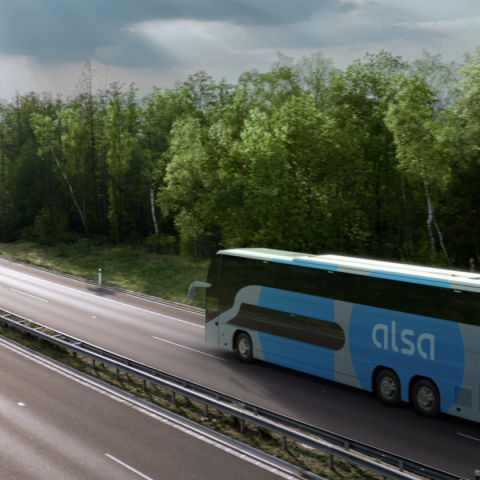 Today 17 per cent of ALSA buses run on alternative fuel, as explained by Miguel Angel Alonso, ALSA's Director of Engineering and European Funds, in a story published on IRU website. The goal of the Spain-based company, with operations in Morocco, Portugal, Switzerland, and France, is to operate only zero-emission urban buses by 2035 and long-distance coaches by 2040 in Spain.
650 alternative drive buses in ALSA fleet today
Since 2020, ALSA has been incorporating low- and zero-emission vehicles into its Spanish fleet. Currently, as mentioned above, 17% of the company's total fleet runs on alternative fuels, including battery-electric, hybrid, compressed natural gas, liquefied natural gas, and hydrogen fuel cell-electric vehicles, with a total of 650 alternative fuel vehicles.
According to Miguel Angel Alonso, battery-electric buses are currently seen as more suitable for urban transport, but their limited range requires a 4-5 hour daily charging time at the depot.
"In 2021, ALSA committed to advancing the use of hydrogen as an alternative fuel, especially in its medium- and long-range operations. In February 2021, it launched its own project to test a hydrogen bus in Madrid and later in Oviedo, Zaragoza and La Coruña as well as in Bilbao and Cantabria – reads the article on IRU website -. In parallel, ALSA has been forging new partnerships with key players in the mobility sector. It's part of the Shyne project, which aims to promote the use of renewable hydrogen in all transport segments in Spain. Together with partners such as Repsol, Bosch and Scania, the project seeks, among other objectives, to install at least 12 hydrogen refuelling stations by 2025. Shyne is expected to generate more than 13,000 jobs".