Arriva wins two new contracts in London and will procure 87 new e-buses
Arriva UK Bus announces it has been awarded two new contracts to operate bus routes by Transport for London (TfL) in addition to retaining seven contracts as part of its existing London operations. Arriva is in the process of being sold from Deutsche Bahn to an investment fund. The two new routes will start operating […]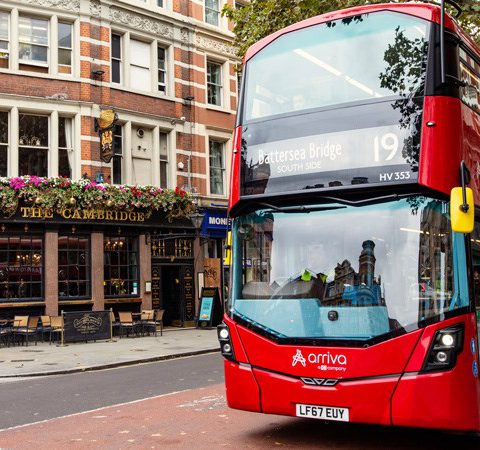 Arriva UK Bus announces it has been awarded two new contracts to operate bus routes by Transport for London (TfL) in addition to retaining seven contracts as part of its existing London operations. Arriva is in the process of being sold from Deutsche Bahn to an investment fund.
The two new routes will start operating from August 2024 and together with the seven retained routes, this latest batch of awards is expected to deliver over £200 million in revenue over the term of the contracts.
Arriva has 14 depots across London which serve around 100 contracted routes on behalf of TfL (17% of all bus services in the capital).  With a growing fleet of electric vehicles, Arriva is accelerating its programme of electrification as part of the Mayor of London's long-term vision for all bus transport to be zero-emission by 2030.
Arriva to procure 87 new e-buses for London
Arriva also plans to invest in 87 new electric buses, 76 double deckers and 11 single deckers, to join the London fleet and is currently converting its Thornton Heath garage in Croydon to become fully electrified, giving it additional zero-emission capability in South London for over 100 buses.  This follows the electrification of its Brixton Tramshed in November 2021, from where Arriva operates 35 fully electric buses, the operator says.
Early next year, Thornton Heath will be fully electrified, and work is underway for Enfield depot to be able to handle electric vehicle charging early next year and Tottenham will be able to do so from mid-2024, Arriva states.
Jens Abromeit, Managing Director of Arriva UK Bus and Arriva Board member, said: "We're incredibly proud to be part of the famous London red bus network and to have successfully operated it for many years.  Growing the number of routes we operate is a growth story for London and we can't wait to welcome the new fully electric buses, growing the size of our zero emission fleet in London to nearly 230".
Marcos Hart, Managing Director of Arriva London added: "The new vehicles represent a fantastic milestone on our journey to operate a greener bus network across London and it's really exciting news for us as a business and for our customers."