Arrival releases adjusted roadmap and financial results. E-bus test to start in Q3 2022
Achieved the EU certification and received European Whole Vehicle Type Approval (EUWVTA), the Arrival electric bus is set to start public road trials with First Bus in Q3 2022 (the company was expected commence trials in Q1 2022). Arrival reports that demand for products grew with non-binding LOIs and Orders increasing to c.143k vehicles. Arrival […]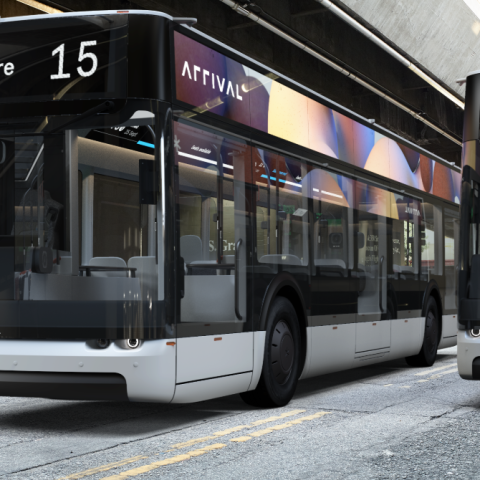 Achieved the EU certification and received European Whole Vehicle Type Approval (EUWVTA), the Arrival electric bus is set to start public road trials with First Bus in Q3 2022 (the company was expected commence trials in Q1 2022). Arrival reports that demand for products grew with non-binding LOIs and Orders increasing to c.143k vehicles.
Arrival financial results until Q1 2022
Loss for the period Q1 2022, Arrival sums up, amounted at «$10.4 million, compared to a loss for the period of $1,151.0 million in the first quarter of 2021 (including a $1.2 billion non-cash charge associated with the merger of Arrival and CIIG). Adjusted EBITDA loss for the period of $66.9 million, compared to an adjusted EBITDA loss of $31.1 million in the first quarter of 2021. Administrative expenses were $54.2 million and non-capitalised R&D expenses were $27.7 million, compared to administrative expenses of $43.4 million and non-capitalised R&D expenses of $11.5 million in the first quarter of 2021. Capital expenditure for the period, including tangible and intangible purchases, of $99.1 million, compared to $49.8 million in the first quarter of 2021. Cash and cash equivalents of $735 million as of March 31st, 2022».
Arrival outlooks for 2022
Arrival outlook is to reach «a full year Adjusted EBITDA loss of $185-225 million and full year Capex of $380-420 million. This assumes start of production in Bicester in Q3 and in Charlotte in Q4, and total production of 400-600 Vans plus low volume production of Buses in the UK starting in the second half. Arrival expects to end the year with between $150 million and $250 million of cash». 
"Our ambition is to create better electric vehicles people love to use and our vision is becoming a reality with the Arrival zero-emission Bus being our first product to achieve certification, a critical milestone for our Bus to be driven on public roads with passengers," said Denis Sverdlov, Arrival founder and CEO. "This is a significant achievement for our company. As our technologies and components are shared it contributes to all future vehicle programs which is one of the many benefits of our vertically integrated approach. I am also very pleased to announce we have already passed over 70% of our Van certification tests and made strong progress on our Microfactories with our cabin, hoop and skateboard all assembled using our advanced robotics platform. Customers want our products and our LOIs continue to grow. With the great progress on certification we are pushing forward towards Start of Production in Q3."
Concerning the van, final prototype build has been completed with vehicle testing commencing on public roads, Arrival adds. Over 70% of Van certification tests already passed including all crash testing. Start of production is expected in Bicester in Q3 2022 and Charlotte in Q4 2022.
Finally, concerning production processes, all robotic technology required for vehicle assembly has been installed in Bicester, Arrival adds. Using the technology cells in Bicester, Arrival has robotically assembled the entire van structure onto the skateboard including the cabin and cargo area. In Charlotte will begin equipment installation in late summer, on track for Q4 2022 SOP.