24-meter trolleys for Linz, 70 e-buses for Vienna. Austrian government funds 289 e-buses with 122 million euros
122 million euros to support the procurement of 289 electric buses. The first call has been completed, the second already started. Austrian government is investing in regional zero emission bus transport. Among the funded projects, there are 16 double-articulated trolleybuses for Linz, where the service is going to be extended (and such technology is already […]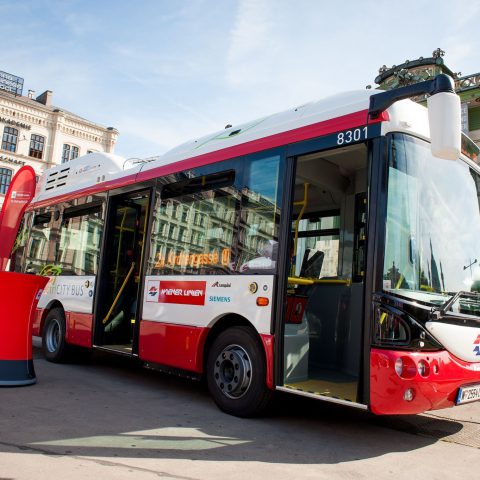 122 million euros to support the procurement of 289 electric buses. The first call has been completed, the second already started. Austrian government is investing in regional zero emission bus transport.
Among the funded projects, there are 16 double-articulated trolleybuses for Linz, where the service is going to be extended (and such technology is already in operation). Procurement of 70 electric buses for Vienna is also funded.
In May 2020 it was announced that Vienna's public transport operator Wiener Linier had in plan a tender for 82 e-buses for 2021, with plans to have 82 zero emission buses on the roads by 2027.
Austria's goal to have 682 e-buses by 2026
Currently, 184 purely electric buses are registered throughout Austria, according to figures provided by the government. The goal is to quadruple this number by 2026: at that date the government wants 682 e-buses in operation.
With the funding programme "Emission-free Buses and Infrastructure" (EBIN), the Austrian Ministry of Climate Protection supports companies in converting their fleets to emission-free buses and in setting up the necessary charging and refuelling infrastructure.
Austria funds electric buses: the EBIN programme
Ten of the projects submitted from seven federal provinces were positively evaluated in the first call of the EBIN funding programme. This corresponds to a total number of 289 emission-free buses and a funding amount of approx. 122 million euros. All projects submitted to the Austrian Research Promotion Agency (FFG) were evaluated by an independent jury of experts.
Leonore Gewessler, Climate Protection Minister, says: "The promotion of emission-free regional buses is another important milestone on our way to independence from fossil fuels. It is particularly gratifying that we can support a wide variety of projects throughout Austria with this funding programme. We are investing in emission-free mobility locally. From the Ziller to the Mürztal, from the east of Linz to the centre of Klagenfurt, new climate-friendly buses will be on the road in the future. New submissions are now possible in the second call – the expert jury is looking forward to projects from all over Austria."
Klaus Pseiner, Managing Director of the Austrian Research Promotion Agency (FFG): "With the rapid implementation of the call, the FFG was able to make a contribution to the turn towards environmentally friendly mobility. With transparent processing and our proven review and decision-making processes, we ensure that important milestone projects for the mobility development in Austria can be implemented quickly. This decision will enormously accelerate the fleet conversion to non-fossil fuel buses as well as the construction of the charging and refuelling infrastructure required for these buses."
In the first round, ten projects in seven provinces will be proposed for funding from the European Union's Recovery and Resilience Facility (RRF).
| | |
| --- | --- |
| Vorarlberg | Electric Buses for Regional Decarbonisation |
| Carinthia | Klagenfurt Electric Bus Investment Project 2.0 |
| Tyrol | 3 BE buses in the tourist environment and for regional transport in the Landeck region |
| Upper Austria | 16 24m double-articulated trolleybuses for service extension by two high-capacity lines in the east of Linz – line 47/48 |
| Styria | Decarbonisation of the public bus fleet in Graz |
| Tyrol | 4 e-buses glacier region Zillertal/ high mountain nature park Zillertal Alps |
| Vienna | 70 zero-emission buses for Vienna |
| Salzburg | 7 BE buses for regional bus lines in the province of Salzburg |
| Tyrol | Emission-free public transport – Innsbruck / Tyrol |