Basel orders 62 e-buses: eight 25-meter awarded to HESS (besides the 54 eCitaro)
25-meter new electric buses are set to be in operation in Basel. The Swiss bus manufacturer Hess has been awarded a part of the international electric bus tender issued by Basel operator BVB (Basler Verkehrs-Betriebe) in Switzerland. In the framework of the same tender, 54 vehicles have been awarded to Mercedes. The tender provides for […]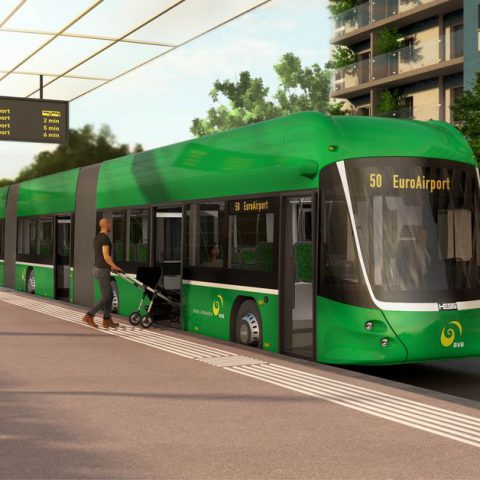 25-meter new electric buses are set to be in operation in Basel. The Swiss bus manufacturer Hess has been awarded a part of the international electric bus tender issued by Basel operator BVB (Basler Verkehrs-Betriebe) in Switzerland. In the framework of the same tender, 54 vehicles have been awarded to Mercedes.
The e-buses are scheduled to go into operation from autumn 2022 to spring 2023, BVB says. The operator plans to convert its entire bus fleet to e-buses by 2027.
BVB to convert the bus fleet by 2027
Bus line 50 in Basel is experiencing a steady increase in passenger numbers and has reached its capacity limits in recent years. This growth has had to be met by increasing the frequency of service. But this response also shows its limits, is mentioned in the press release by Hess. The solution that has been found is the adoption of the Hess lighTram 25OPP. If necessary, the vehicles can be recharged at the final destination according to the OPP (Opportunity Charging) principle.
The 25-meter e-bus offers space for more passengers, more luggage space and generous storage space for prams or passengers with reduced mobility. The fleet of eight vehicles ordered for the airport route can be expanded at a later date for use on other BVB routes with high demand, Hess points out in a press release.
Alex Naef, CEO of Carrosserie Hess AG, comments: "We are pleased and proud that Hess has been chosen to contribute to the success of the 2027 bus system in Basel with its electric buses and services. Our experience and geographical proximity enable us to provide BVB with ideal support during the life of the buses, as an attractive and sustainable public transport system is constantly evolving".
"We are very pleased to be able to operate almost half of our bus fleet electrically from spring 2023. This will make our bus fleet more environmentally friendly, quieter and more modern," says BVB Director Bruno Stehrenberger.