Boston plans to switch all school buses to electricity by 2030
Boston Public Schools (BPS) will be launching an electric school bus pilot program, deploying 20 buses during the 2022-2023 school year. It'll only be the first step toward full electrification of the school bus fleet by 2030. Boston Mayor Michelle Wu announced major strides toward electrifying the City's vehicle fleet as part of a Green […]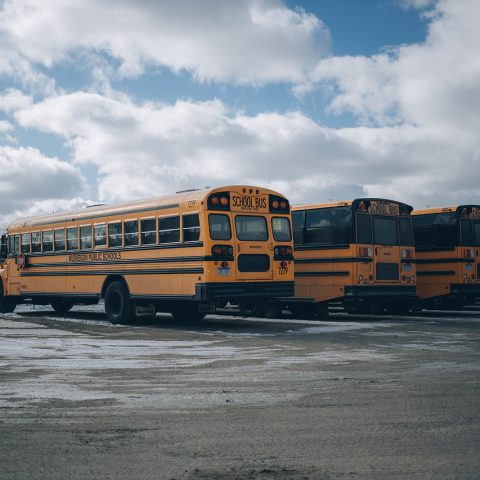 Boston Public Schools (BPS) will be launching an electric school bus pilot program, deploying 20 buses during the 2022-2023 school year. It'll only be the first step toward full electrification of the school bus fleet by 2030.
Boston Mayor Michelle Wu announced major strides toward electrifying the City's vehicle fleet as part of a Green New Deal for Boston.
Boston: only electric school buses by 2030
Boston Public Schools and the City of Boston's Environment Department are working to reduce vehicle emissions by electrifying the City's yellow school bus fleet, converting diesel school buses to electric vehicles, with the goal of full electrification by 2030, the city releases. As a first step, BPS will launch an electric school bus pilot program with an initial procurement of 20 buses, using BPS's operating budget and funds from the American Rescue Plan Act, with the goal of deploying within the next 8 to 10 months. Longer term, BPS will work to replace additional big buses each year, and then move to replacing smaller buses until the entire fleet is electrified.  
Mayor Wu also recommitted to growing Boston's green jobs workforce by launching the electric vehicle (EV) "train the trainer" program, a partnership between the Public Works Department and Madison Park Technical Vocational High School. This program will enable the City's Central Fleet Management team to train students and City fleet managers in electric vehicle maintenance through Madison Park's Automotive Technology Program. These announcements build off the Wu administration's commitment to building a Green New Deal City and previous announcements to reduce vehicle emissions in Boston.
BPS currently has 739 buses, which constitute 11 percent of the City's municipal emissions, the city government outlines. Since 2016, BPS has been working to replace diesel buses with buses that run on liquid propane, an interim solution to reduce emissions and costs. Propane bus technology offers lower air pollution than diesel buses, and transitioning from diesel to propane has provided opportunities to navigate fleet management for vehicles that have limited re-fueling points, priming BPS's ability to work with electric school buses that may have range limitations that affect route assignments.
Electrification will eliminate tailpipe emissions, address air quality and noise concerns around school pick-up and drop-off, offer a healthier work environment for bus drivers and monitors, and potentially offer cost savings over the entire bus life cycle.
BPS: on the way to full electrification of school bus fleet
Later this month, BPS will also launch a request for information (RFI), seeking input from a wide range of stakeholders on electrification strategies, existing initiatives in other cities, and exploring potential solutions to local challenges to electrification. This RFI will provide the City with information on what local private businesses, supply chain experts, and electric school bus and charging providers may have an interest in partnering.
As the City expands its electric vehicle fleet, the administration is also working with BPS to train the next generation of green economy workers through a new "train the trainer" electric vehicle maintenance program at Madison Park Technical Vocational High School. Beginning this May, the Public Works Department's Central Fleet Maintenance (CFM) Division will begin the first-ever "train the trainer" class for fleet mechanics from Public Works, Boston Police and Boston Public Schools on how to safely service and repair EVs, adding new EV educational capacity to Madison Park's Automotive Technology program. Graduates of the program will be certified to teach the proper and safest way to repair and maintain EVs to students. The program will be offered to City fleet mechanics, seniors in the automotive program at Madison Park, Benjamin Franklin Institute of Technology students, and adult learners through the Career Technical Institute program at Madison Park.
Boston mayor Michelle Wu: workforce development towards green economy
"Climate justice is racial and economic justice. And this moment requires an urgent, all hands on deck approach from every level of government to reduce emissions and boost the health, safety, and opportunity of our communities," said Mayor Michelle Wu. "Not only are we working to electrify our school buses and municipal fleet for cleaner air throughout our neighborhoods, but these workforce development pipelines connected to electric vehicles will help support career pathways into the green economy."
"I am excited to see this policy come to life and am grateful for the partnership with the City to take these critical steps to upgrading our school bus fleet," said Boston Public Schools Superintendent. Dr. Brenda Cassellius. "I am even more excited that our students at Madison Park are so integral to this new initiative and will have the opportunity to learn skills and make connections that will support them as they pursue careers. Thank you Mayor Wu and the entire team at Benjamin Franklin Institute of Technology for this wonderful opportunity to electrify our school buses and create pathways for our students."
"The Public Works Department has always placed a strong emphasis on continuing education and training for our fleet mechanics and interns enrolled in the Madison Park Automotive program," stated Director of Fleet Maintenance, Bill Coughlin. "We know that electric vehicles are here to stay, and by training future generations how to repair and service EV's, we're equipping them with a skill-set to acquire good paying jobs in the automotive marketplace.