Ebusco buses haven't reached Berlin yet. Berliner Zeitung: BVG's technical assessment is not flattering
by omnibus.newsPhoto credit: BVG Issues with electric buses in Berlin are nothing new; two years ago, it was the shortened range in cold weather that worried BVG. The transport authority sought contact with the then electric bus supplier Solaris, because the vehicles of the Urbino electric series could not drive the promised range in the […]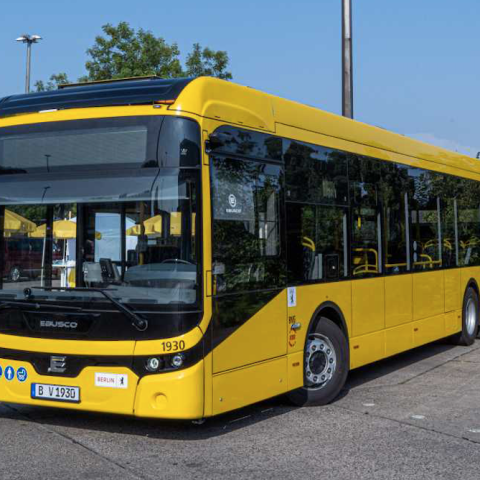 by omnibus.news
Photo credit: BVG
Issues with electric buses in Berlin are nothing new; two years ago, it was the shortened range in cold weather that worried BVG. The transport authority sought contact with the then electric bus supplier Solaris, because the vehicles of the Urbino electric series could not drive the promised range in the cold days.
Now there are problems again, again it is new electric buses. Ebusco, as the electric bus supplier, is facing questions about why the 90 electric buses of the 2.2 series that were ordered have not been delivered so far. "So far, not a single one of the buses has been accepted by BVG," an insider told the Berliner Zeitung. The order dates back to December 2021, with delivery, it was said, scheduled for 2022.
Supply chain disruptions extend delivery times
The reason is quickly found: electric bus manufacturers are also unanimously complaining about production problems, saying suppliers are not delivering key parts and components.
Rob Stevens of Ebusco tells Berliner Zeitung, "Global supply chain disruptions and Corona have affected production planning, as they have throughout the automotive industry."
In the meantime, however, all 90 electric buses for BVG have been completed, he said. In this context, the Berliner Zeitung reports that the availability of some customer-specific IT systems and the delayed delivery and installation of the heating and air-conditioning systems delayed the commissioning.
In the coming months, the electric buses would be delivered step by step, the manufacturer assured.
BVG's verdict on Ebusco 2.2 buses, according to Berliner Zeitung
According to information from the Berliner Zeitung, BVG technicians have taken an intensive look at the new electric bus, which the Dutch supplier has manufactured in China and final assembled and equipped with customer-specific details in Deurne, the Netherlands.
The verdict on the delivered Ebusco 2.2 electric bus was not very flattering: "Missing underbody protection, incorrect and poor weld seams, rust and broken taps are already a frightening result," was the verdict after the inspection, still according to the German media.
"As of today, the BVG fleet counts 1,488 buses that are licensed for regular service," BVG spokesman Kremmin announced earlier this week in response to an inquiry from the Berliner Zeitung. 138 buses are electric buses, so when the 90 new Ebusco are registered and added to the fleet, there will already be 228 electric buses operating in Berlin.
Asked by Sustainable Bus, BVG released the following statement: "Unfortunately, there was a delay in delivery of the 90 new e-buses, so they will not go into operation until next week. The main reason is problems in the supply chain. For example, the well-known chip bottlenecks, a fire in the factory of a component supplier, various lockdowns in supplier countries and, last but not least, Russia's war against Ukraine. In the end, important parts were missing to complete the vehicles and be able to accept them through the BVG. We are in close contact with Ebusco and the supplier company all the time and support where we can"