CALSTART's data show 26% growth of zero-emission truck and bus model availability globally
CALSTART new data tracks 26% growth of zero-emission truck and bus model availability globally. According to the North American nonprofit organization, the number of zero-emission truck and bus models on the market now or in the near future will grow nearly 26% from 2020 until the end of 2022 (from 433 models to 544 models) […]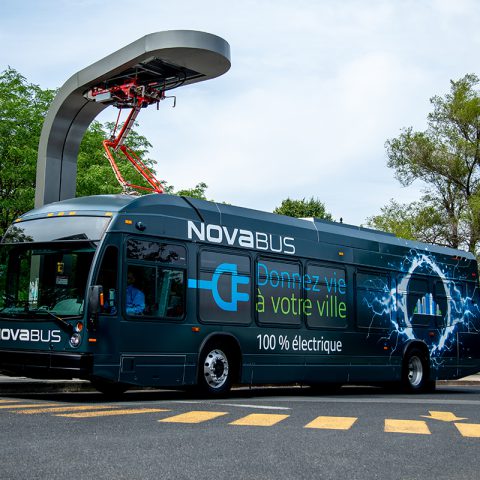 CALSTART new data tracks 26% growth of zero-emission truck and bus model availability globally.
According to the North American nonprofit organization, the number of zero-emission truck and bus models on the market now or in the near future will grow nearly 26% from 2020 until the end of 2022 (from 433 models to 544 models) in key global markets. Zero-emission transit buses are expected to end 2022 with 262 available models (up from 247 in 2020).
This new data was unveiled at an online event by CALSTART's Global Commercial Vehicle Drive to Zero program and campaign (Drive to Zero) and featuring manufacturing innovators, Scania and BYD, as well as global fleet DHL. 
CALSTART notes that In order to reach the 30% zero-emission truck and bus sales target by 2030 the United States would have to leap from fewer than 5-thousand ZETs and ZEBs in the nation to a sales target of 593,303 zero-emission medium-and heavy-duty vehicles by 2030.
Zero emission transit buses lead the market
By far the overall model leader and the most established zero-emission application, zero-emission transit buses are expected to end 2022 with 262 available models (up from 247 in 2020) – a steady 6% rise between 2020 and 2022, the majority of which are available in the Chinese market.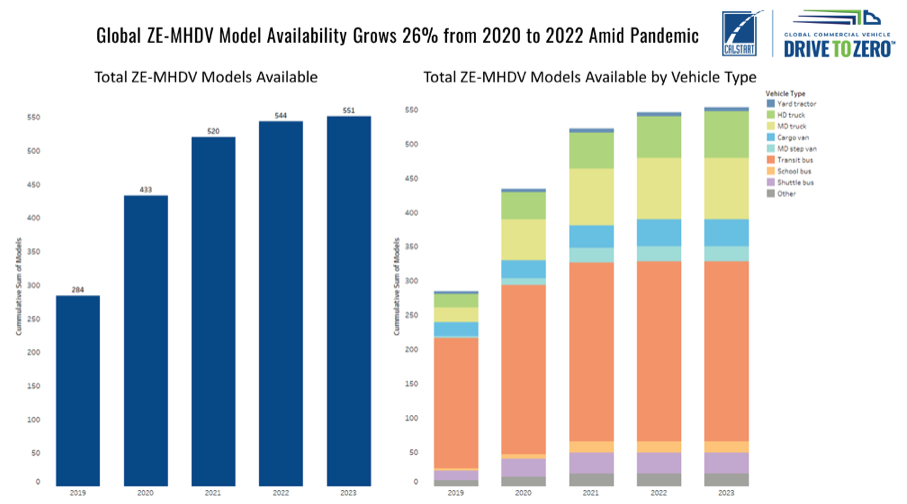 What is also interesting, zero emission bus ranges are on the rise, according to CALSTART report. According to manufacturer data, zero-emission transit buses on the market in 2022 have a median range of 280km/175mi with a number of manufacturers reporting ranges greater than 300km/185mi. Roughly half of zero-emission transit buses available in 2022 have a manufacturer-reported range of 218km/135.5 miles and 388km/241.2 miles, sufficient for many transit operations.
Globally, the strongest model availability growth rates are being tracked in the zero-emission school buses and medium-duty step vans vehicle types. Zero-emission medium-duty step vans are tracking 120% growth (10 models to 22) from 2020 to 2022. Over the same time period, zero-emission school buses – of particular note for the North American market – rose 143% (7 models in 2020 to 17 models by 2022). Heavy-duty trucks are tracking 56% growth from 2020 to 2022 (39 models to 61 models).
3,500 ZEBs in the USA, 400,000 in China
CALSTART points out that when comparing ZE model availability by region, the new data suggests the United States and Canada combined appear to rival global zero-emission vehicle leader China in terms of model availability. However, China represents the vast majority of the ZEB market globally by deployments. China far exceeds North America in adoption with an estimated more than 400,000 ZEBs operating in the nation. The United States records just 3,533 ZEBs and 1,215 ZETs in the nation, with a large portion of those vehicles on the road in California.
Zero emission bus deployment in the US has been growing 27% in 2021, up to 3,533 buses (on the road and on order). 
CALSTART: zero emission commercial sales must grow in the US
"California is using a combination of policies, regulations, incentives, infrastructure investments, and pilot projects to grow the marketplace for zero-emission trucks and buses. Fifteen nations around the world, including Canada and the UK, are supporting similar commitments through the Global Memorandum of Understanding on Zero-Emission Medium and Heavy Duty Vehicles," said Alycia Gilde, Vice President, CALSTART. "Golden State policies such as the Advanced Clean Trucks Rule and the Innovative Clean Transit Rule signal timelines for the zero-emission transition, while incentives such as the state's Hybrid and Zero-Emission Truck and Bus Voucher Incentive Project (HVIP) and the EnergIIZE Commercial Vehicles Project buy down vehicle and infrastructure costs needed to enable successful fleet deployment."
"Leading global markets like the United States, Germany, and even global electric vehicle leader China must do more to address this sector. Globally, although freight trucks represent less than four percent of the on-road fleet, they contribute to about 27% of on-road fuel consumption and greenhouse gas emissions as well as 60% of on-road nitrogen oxides," said Owen MacDonnell, Project Manager for CALSTART. He adds: "The United States is falling far short of what is needed in terms of sales if we hope to reach ambitious 30% zero-emission truck and bus sales by 2030 and 100% zero-emission sales by 2040, which has been adopted by a number of leading nations".
"Seeing a healthy increase in model availability during a time of instability and heavily challenged supply chains confirms the commitment from several top manufacturers for zero-emission vehicles," said Dr. Cristiano Façanha, CALSTART's Global Director and lead of Drive to Zero. "We cannot afford to hit the pause button on these vehicles, they are critical to achieving global net-zero by 2050 goals."
Electrifying heavy commercial transport is key
"Scania strongly supports accelerating the shift towards sustainable transport. Electrifying heavy commercial transport is key to limiting the worst impacts of climate change in the coming decades," said Peter Forsberg, Head of e-Trucks Solutions for Scania. "Scania now offers a wide range of fully electric vehicles and we are testing fully electric trucks in operations, like heavy and long-distance transport, that were very recently considered out of reach for electrification."
"DHL has been an early mover in fleet electrification because we see it as a key factor in achieving our net zero emission aspirations, and in serving our customers," said Jim Monkmeyer, President of Transportation, DHL Supply Chain. "As cities move increasingly toward zero-emission transit zones and national governments set ambitious emission reduction targets for transport, we will heed that signal to integrate more zero-emission trucks, delivery vans and other vehicles into our fleets."
"Aligning public policy and funding as well as private business strategy, production, and investment toward achieving ambitious zero-emission vehicle adoption goals are all key to accelerating this critical segment overall and specifically in terms of sales," Patrick Duan, Senior Vice President, Operations, BYD North America. "BYD is working collaboratively with partners in the public and private sector to increase global cooperation aimed at speeding the adoption of zero-emission vans, medium-duty and heavy-duty trucks, and also creating the charging infrastructure needed to support these vehicles."