Four articulated electric buses by VDL for Keolis Sverige AB in Sweden
VDL Bus & Coach is to supply four Citeas SLFA-181 Electric to Keolis Sverige AB in Karlstad, Sweden. These 4 buses will be deployed on the new BRT-inspired line in Karlstad. The units of electric bus will go into operation on 9 December 2018. With 63,000 employees in 16 countries on 4 continents, Keolis is one […]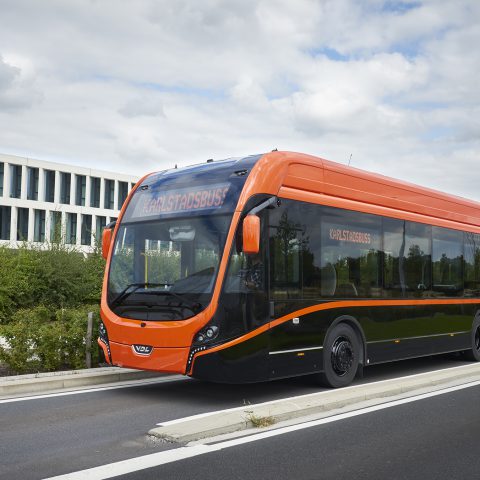 VDL Bus & Coach is to supply four Citeas SLFA-181 Electric to Keolis Sverige AB in Karlstad, Sweden. These 4 buses will be deployed on the new BRT-inspired line in Karlstad. The units of electric bus will go into operation on 9 December 2018. With 63,000 employees in 16 countries on 4 continents, Keolis is one of Europe's largest public transport service providers, and a world leader in shared mobility.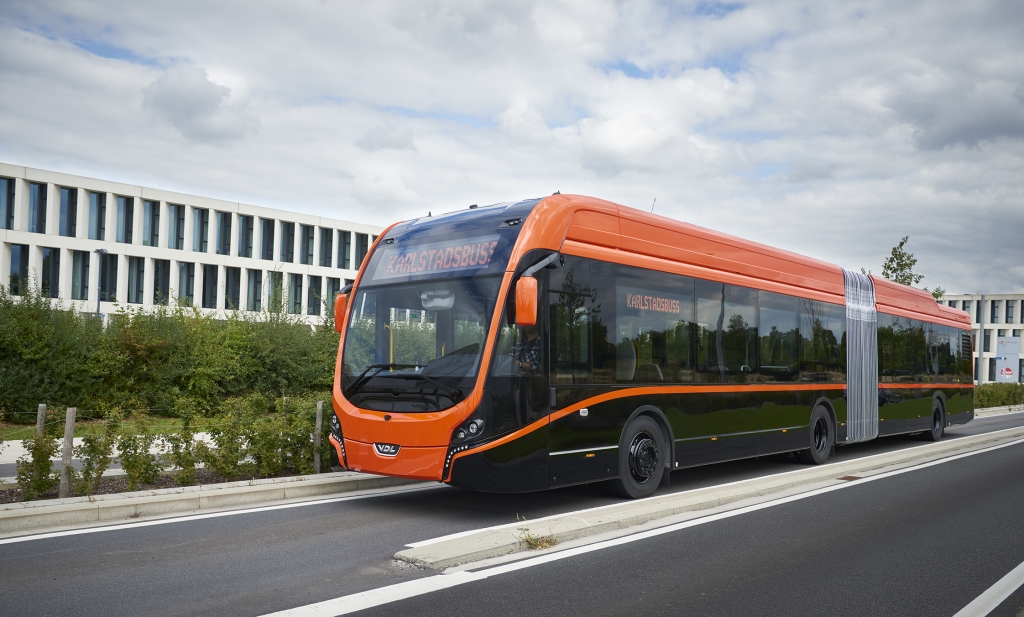 Maximum standing room capacity for VDL electric bus
The VDL SLFA-181 Electric is a low-floor bus with a length of 18.1 metres, equipped with a fully electric driveline. This electric bus has a flexible interior with maximum standing room capacity and 12 fold-down seats. As such, it is ideally suited for the high passenger flow rate on the BRT line in Karlstad. The Citea SLFA-181 Electric for Karlstad is finished with a wood-look floor and integrated USB chargers. During operation, the bus will be recharged via an inverted pantograph. VDL will be displaying the bus, equipped with its charging connection for the inverted pantograph, during the InnoTrans event in Berlin. The maximum charging capacity is 450 kW which means that in quick-charging mode, the battery can be fully recharged within just 35 minutes. For charging in the depot and for vehicle preconditioning, the vehicle relies on the conventional CCS plug. The climate system is equipped with a heat pump to improve yield at lower temperatures. To cope with the winter conditions in Sweden, additional HVO heating is available.
Contribution to sustainable mobility
"Of course, it is encouraging that our new buses and the investment in a BRT-inspired line is noticed internationally. We worked hard on the specification, design and appearance. We are really happy with the result and are expectant to show the buses for the residents of Karlstad," says Mathias Lindgren, Business Development Manager at Karlstadsbuss (the Public Transport Authority responsible for urban transport in the city of Karlstad, with its 63,000 inhabitants. In total, Keolis operates 65 vehicles on 18 lines. In 2017, the customers of Karlstadsbuss made more than 7 million journeys, representing an increase of almost 80 percent since 2005.). "As pioneers in the field of electric buses in Western Europe, we are working day in day out to introduce further innovations in E-Mobility and so contribute to a cleaner natural environment and a healthier living environment for the residents. We are delighted that this delivery will help make an ever greater contribution to sustainable public city transport in Sweden," commented Sami Ojamo, Business Development Manager Public Transport Nordics at VDL Bus & Coach Sweden AB.