Due to CleverShuttle's insolvency, Via takes over 10 on-demand public transport services in Germany
Via announces new partnerships with public transport companies in Germany to take over the operations of 10 on-demand public transport services formerly operated by CleverShuttle, due to the insolvency of the company. CleverShuttle had to file for insolvency earlier this year due to the fact that Deutsche Bahn withdrawed as an investor, as electrive.com reported. […]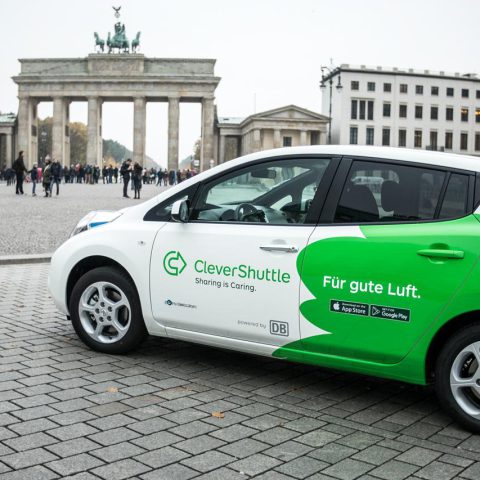 Via announces new partnerships with public transport companies in Germany to take over the operations of 10 on-demand public transport services formerly operated by CleverShuttle, due to the insolvency of the company. CleverShuttle had to file for insolvency earlier this year due to the fact that Deutsche Bahn withdrawed as an investor, as electrive.com reported.
These services represent roughly 75% of CleverShuttle's business and include several of the most ambitious and successful on-demand projects in Germany, Via stresses. 
Via takes over on-demand transit services in Germany
Beginning November 1, Via will take over as the technology and operations provider for six on-demand transport services in the Rhein-Main Verkehrsverbund (RMV) region (in the Offenbach district, Darmstadt, Hanau, Frankfurt, Taunusstein, and the county of Darmstadt-Dieburg) as well as services in Essen, Dresden, Kassel, and Leverkusen. "Facing an extremely tight deadline due to Clevershuttle's insolvency, Via was able to work closely with its new partners to transition all 10 services simultaneously and on time, ensuring seamless operations and continued employment for drivers and operational staff", still the company says.
The VDV estimates that the on-demand sector in Germany grew by 300% between 2018 and 2022, with well over 80 services in operation today. And the need for a traffic transition has never been clearer: the transport sector contributes 21.3% of all greenhouse gas emissions, and rural areas in particular suffer from acute car dependency given the lack of reliable access to public transportation.
CleverShuttle is insolvent, Via takes over
Chris Snyder, CEO of Via Europe: "CleverShuttle has played an important role in establishing the value of on-demand mobility in Germany, and we are committed to ensuring the continued success of their projects. We are pleased  to bring our extensive operational expertise and proven software solution to support our new partners at a time when on-demand public transport is increasingly recognized as a key element in the transition to a more efficient, sustainable, and equitable transportation landscape."
Prof. Knut Ringat, RMV managing director: "Together with our new partner Via, we will continue the success story of the on-demand project in RMV. The change of operator does not change the offer, the high quality, and the goal of further advancing on-demand mobility as a crucial component for the mobility transition. We would like to thank CleverShuttle for the good cooperation so far, and are pleased that we were able to win Via, a globally successful operator of public on-demand offerings with more than 650 projects worldwide, for our project. The fact that Via will not only take over offerings from RMV, but also four other on-demand services in Germany from CleverShuttle, impressively shows Via's expertise."
Dr. Olaf Hornfeck, board member of Kasseler Verkehrs-Gesellschaft AG: "Our Schaddel is well received in Kassel and is becoming increasingly popular. We look forward to working with Via in the future. The preparations for the change of operator have already shown that we are working with an experienced partner and can thus jointly establish on-demand transport as a modern form of mobility."
Marc Kretowski, Managing Director of wupsi: "We are very happy to have found a partner in Via who will completely take over the current offering so that our customers can continue to use our on-demand service easily, flexibly, and individually in the future."