COBUS VEGA electric airport bus launched at GSE Expo Europe
COBUS VEGA is the name of the new airport bus, electrically-powered, unveiled by COBUS Industries. The vehicles was launched yesterday at GSE Expo Europe in Paris. It has the goal of supporting airports worldwide in their ambition to become carbon-free. As widely known, COBUS is a brand of airport buses manufactured by Portuguese manufacturer CaetanoBus […]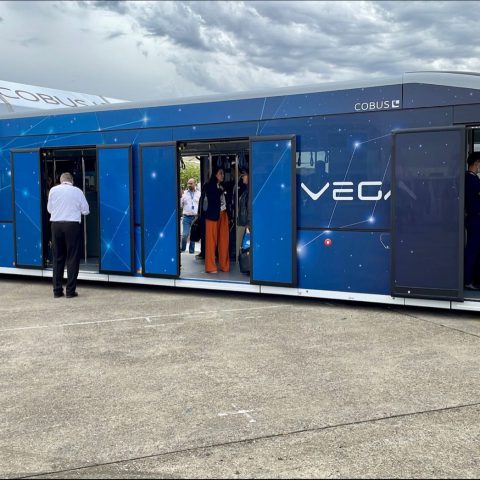 COBUS VEGA is the name of the new airport bus, electrically-powered, unveiled by COBUS Industries. The vehicles was launched yesterday at GSE Expo Europe in Paris. It has the goal of supporting airports worldwide in their ambition to become carbon-free.
As widely known, COBUS is a brand of airport buses manufactured by Portuguese manufacturer CaetanoBus and distributed by COBUS Industries, based in Germany.
COBUS VEGA electric airport bus launched
The COBUS VEGA is presented as the first product of a new series of fully electric-driven buses. "According to the respective airport's operational requirements, the bus can be equipped in a modular system with two to four NMC3 batteries of the latest generation", Aviationpros reports. The adds: "The concept of the COBUS VEGA is based on the innovation leaders in electric buses, Caetanobus and Daimler Truck, and has all its exceptional advantages: a proven technology through thousands of delivered innovated electric buses; an improved passenger and driver comfort due to the pneumatic suspension system; an overall superior and safer driving performance".
Patrícia Vasconcelos, CEO of COBUS, stated: "Our electric journey started already in 2015, and today we are very proud to be able to continue our path towards environmentally friendly solutions and services, contributing to a better quality of life for all of us in our planet. Years of dedication and passion, continuous commitment, resilience and strong partnerships with our customers, shareholders, suppliers, and all other stakeholders made our dream come true… Together we are prepared for the future!"