Contactless ticketing launched in Cannes Palm Bus network thanks to Kuba and Littlepay
Littlepay launched contactless EMV (cEMV) ticketing on the Palm Bus network in Cannes, France. The Cannes Lérins Agglomération supports this modernisation of the ticketing system, in collaboration with Palm Bus, Kuba, Littlepay and La Banque Postale. Cannes: public transport ticketing go contactless As of now, riders across the network of over 200 buses will be […]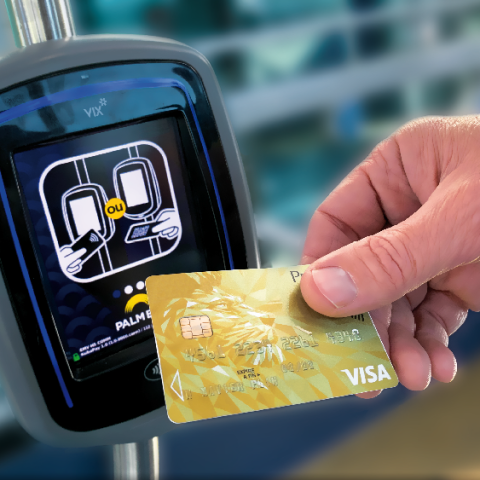 Littlepay launched contactless EMV (cEMV) ticketing on the Palm Bus network in Cannes, France. The Cannes Lérins Agglomération supports this modernisation of the ticketing system, in collaboration with Palm Bus, Kuba, Littlepay and La Banque Postale.
Cannes: public transport ticketing go contactless
As of now, riders across the network of over 200 buses will be able to pay for trips with a contactless bank card (Visa, Mastercard) or using their smartphone (Apple Pay, Google Pay or Samsung Pay). The City sees this fuss-free transit payment experience, which doesn't require knowledge of local ticketing systems, as a vital improvement for both residents and the many tourists that visit the city during its annual film festival and peak Summer season.
Littlepay has integrated Kuba's Vix CP6500 validator and AFC back office to its payments platform, so that cEMV can be added to a range of ticketing options Kuba already provides for Palm Bus, including mobile QR codes and closed-loop smart cards.
Contactless ticketing in Cannes to facilitate use of public transport
Frederic Marandon, DGA Mobility of the Cannes pays de Lérins Agglomération, says: "The deployment of the open payment solution in our region is the result of a long-standing collaboration between our agglomération, our transport company Palm Bus and our technology partner Kuba. The addition of this service, with the support of Littlepay, responds to our mission to simplify access to public transport for our regular and occasional customers."
"The deployment of our KubaPay solution, integrating open payment in partnership with Littlepay, on the Palmbus transport network of the urban community of Cannes Pays de Lérins, facilitates access to public transport. Our solution, based around the single validator, is the result of our know-how, expertise and a remarkable collaborative effort. We are particularly proud of the addition of this reference which has undoubtedly contributed to new successes to come." says Tarik Dinane, Managing Director Kuba France.
Amin Shayan, CEO of Littlepay, said: "It's been fantastic to develop a contactless system in partnership with Kuba and Palm Bus that co-exists seamlessly with other payment options. This location is also a great place to see how creating a universal payment experience with tap-to-pay can help cities make travel simpler for overseas visitors. Increasingly, transit users understand they can use their bank card as their ticket to ride, wherever they are."