Daimler Truck results 2022. Bus sales up 28% (revenues +15%)
In 2022, Daimler Truck announces positive results in terms of revenue, EBIT, and Return on Sales, despite the challenges posed by supply chain issues. The company's bus segment saw significant growth, with Daimler Buses' division achieving a 28% increase in vehicle sales (over 24,000) and a 15% increase in revenue. The group was able to […]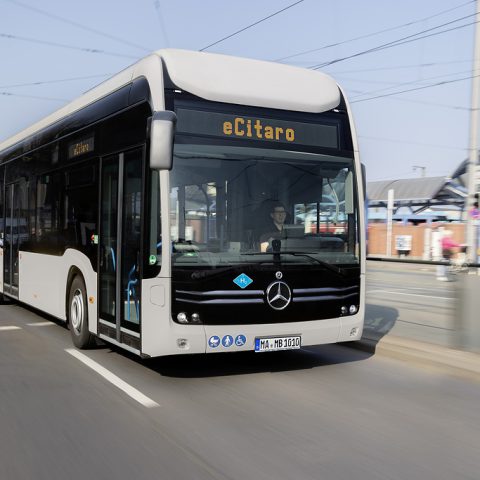 In 2022, Daimler Truck announces positive results in terms of revenue, EBIT, and Return on Sales, despite the challenges posed by supply chain issues. The company's bus segment saw significant growth, with Daimler Buses' division achieving a 28% increase in vehicle sales (over 24,000) and a 15% increase in revenue. The group was able to meet its profitability goals and improve its margins, recording an industrial ROS of 7.7% and a cash flow of 1.746 billion, despite production slowdowns.
Daimler Truck 2022 results, a picture
2022 showed a favorable development for earnings and return on sales. The adjusted EBIT rose by 55% to €3,959 million (2021: €2,552 million), the adjusted ROS of the Industrial Business was at 7.7% in 2022 (2021: 6.1%). Daimler Truck's free cash flow of the Industrial Business increased by 12% to €1,746 million in the reporting year (2021: €1,556 million). Earnings per share (EPS) amounted to €3.24, up 14% compared to 2021.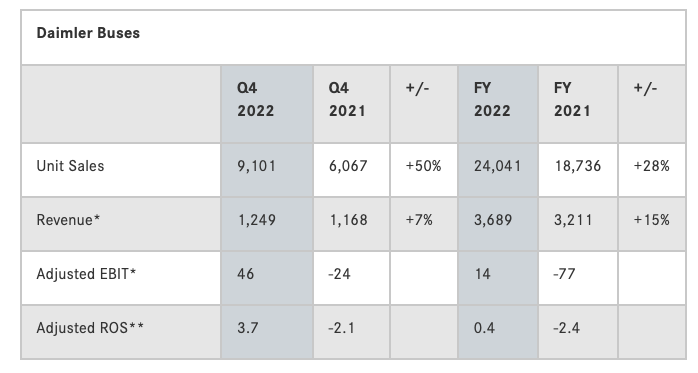 Looking ahead to 2023, Daimler Truck expects growth in key markets, despite challenging economic conditions and rising energy prices. The group expects an increase of its revenue, ranging between €53 billion and €55 billion in the Industrial Business and between €55 billion and €57 billion on Group level. Daimler Truck is further expecting a significant increase of its adjusted EBIT. The adjusted ROS of the Industrial Business is anticipated to range between 7.5% and 9%. Daimler Truck expects the free cash flow of the Industrial Business to be higher in 2023 compared to the previous year.
Martin Daum: a successful first year for Daimler Truck as an independent listed company
Jochen Goetz, CFO of Daimler Truck: "With an adjusted EBIT of €4.0 billion we took a major step forward in a challenging market environment with supply constraints and inflation, achieving a record level of EBIT for the Group. We were also able to continue our strong cash conversion. We want to pay our first dividend and establish an attractive capital allocation policy. We are on a journey to benchmark profitability, but there is still a way to go, especially on costs given the inflationary pressures. Our outlook shows that we will continue our self-help measures to improve our financials."
Martin Daum, Chairman of the Board of Management of Daimler Truck comments: "2022 was a very special year for us, a challenging year in many ways – yet above all a successful first year for Daimler Truck as an independent listed company. Our strong results show that we managed our environment very well, be it the impact of Russia-Ukraine war, ongoing supply chain constraints or high inflation. We have made strong progress towards unlocking our profit potential, and we have also made further important steps regarding our ambition to lead sustainable transportation and to tackle climate change."