Dakar on the way to deploy Africa's first 100% e-bus fleet (on a BRT). CarMedialab to take care of charging management
The Senegalese capital Dakar plans to restructure its transport network by 2025 with the help of a Bus Rapid Transit project operated exclusively with electric buses. One year ago infrastructure investor Meridiam signed the concession contract for the project, that sees Meridian working together with partners Keolis and Fonsis. Dakar BRT project represents a total investment […]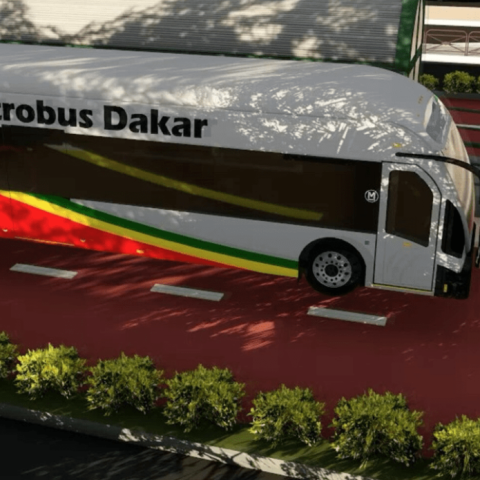 The Senegalese capital Dakar plans to restructure its transport network by 2025 with the help of a Bus Rapid Transit project operated exclusively with electric buses.
One year ago infrastructure investor Meridiam signed the concession contract for the project, that sees Meridian working together with partners Keolis and Fonsis. Dakar BRT project represents a total investment of more than €135 million. It includes the operation and maintenance for 15 years of a new clean public transport network. The supply of e-buses was awarded to Chinese CRRC. Each bus has batteries with a capacity of 563.8 kWh.
Dakar Mobilité towards electrification of bus fleet
The operator Dakar Mobilité wants to use the BRT project to implement sustainable solutions for passenger transport, road congestion and environmental pollution. As part of this, the bus fleet will be powered exclusively by electricity in the future. This will save more than 59,000 tons of CO2 per year, according to estimates. A total of 121 electric buses will be deployed, each with a stated range of 250 km. They'll be fully recharged overnight.
A modern and innovative charging management system will allow the bus network to be monitored and tracked in real time, enabling optimal organization of the entire fleet. German company CarMedialab (part of INIT group) was selected to implement this charging management system. The software application MOBILEcharge ensures that the vehicles are charged according to demand.
In addition to the electric bus network, other measures such as 18 kilometers of reserved lanes, 23 solar-powered stations and three transport hubs are being implemented within the BRT project. The BRT project in the Senegalese capital is so far the first of its kind on the African continent.