De Lijn orders 60 e-buses from Van Hool and VDL
The board of directors of De Lijn has approved the order for 60 electric buses from Van Hool and VDL for 36 and 24 units respectively. This order is a next step in De Lijn's programme to make its entire fleet and accompanying infrastructure emission-free by 2035. The board of directors also approved the order […]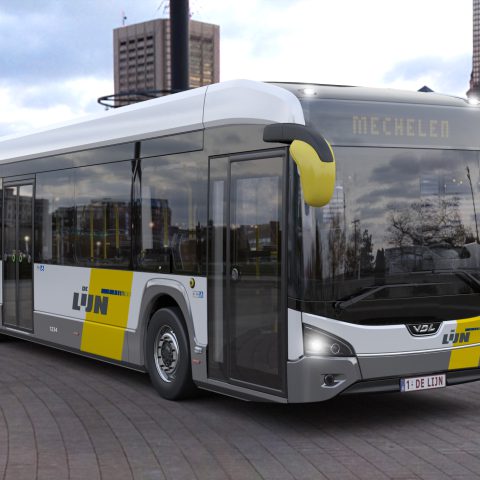 The board of directors of De Lijn has approved the order for 60 electric buses from Van Hool and VDL for 36 and 24 units respectively. This order is a next step in De Lijn's programme to make its entire fleet and accompanying infrastructure emission-free by 2035.
The board of directors also approved the order for charging infrastructure for the e-buses and e-hybrids from two suppliers, Spie-Ekoenergetyka and Heliox. Both suppliers will each install and commission half of the order. This charging infrastructure will ensure that the first e-buses and e-hybrids can be charged at their stations.
Since 2015, more than 1,000 VDL vehicles have been on the road. It is also the first time that De Lijn has ordered the Citea New Generation. This concerns the Citea LF-122 type in a two-door and a three-door variant. The e-buses have a 490 kWh battery pack and are ideally suited for city and regional transport, offering a high level of service.
De Lijn goes with Van Hool and VDL
Van Hool and VDL were the best placed bidders in the public tender procedure, in which 11 candidates participated, De Lijn says. They best met the award criteria and offered the best value for money in terms of total cost of ownership (TCO), range between charges, technical quality and look and feel.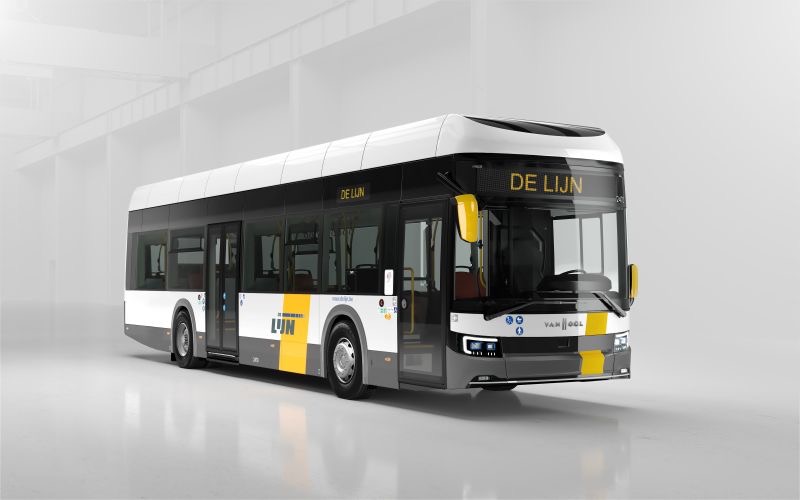 As the best-ranked tenderer, Van Hool can supply 60% of the 60 e-buses or 36 units, with VDL as the second-ranked tenderer, supplying 40% or 24 units. The e-buses will be delivered from the last quarter of 2022. This order involves a sum of almost €28 million.
Lydia Peeters, Minister of Mobility and Public Works: "This is the first real step De Lijn is taking towards greening public transport in Flanders. A few weeks ago, the Flemish government proposed an ambitious Climate Plan in which public transport plays an important role. In order to achieve the climate objectives, we in Flanders have to play the card of sustainable transport. We have to work on a smoother, safer and more environmentally friendly transport system"
VDL with De Lijn, a milestone
Ann Schoubs, Director General of De Lijn: "With this tender, De Lijn is acquiring the latest technology for e-buses. These attractive e-buses respond to the concrete demands of our passengers. For example, it will be easier for wheelchair users to take the bus thanks to the electric ramp that is easier and quicker to operate. At the same time, our Board of Directors has approved the order for the necessary charging infrastructure for these e-buses and e-hybrids that will enable us to serve urban areas emission-free as soon as possible. In short: these orders show that De Lijn is serious about innovating together. With the resources that have been released, we can already take the first big step towards greening". And more: «Sustainability, and sustainable mobility in particular, is an important part of De Lijn's business strategy. We want to reduce our ecological footprint by investing in an integral greening of our fleet and a sustainable approach to our activities. This order for electric buses from VDL Bus & Coach is therefore a further important step in De Lijn's greening process. We look forward to the delivery of these buses in the autumn of 2022 to prepare them for use in 2023».
Filip Malefason, managing director VDL Bus & Coach Belgium: "VDL Bus & Coach is proud to continue the transition to electric buses together with De Lijn. We are happy to use our knowledge and experience as an innovative partner in the field of electric public transport to contribute to Flanders' climate objectives. What is so special about this agreement is that we have reached the milestone of 1,000 delivered buses since 2015. That is typical of our good, long-standing cooperation. The new order will be produced at VDL Bus Roeselare, where the construction of a new energy-neutral facility for the production of our new generation Citea recently got under way."
New generation of VDL Citeas
VDL Bus & Coach has become one of Europe's leading players in the field of e-mobility. VDL has been active in the field of electric transport for over 25 years. Since the introduction of the first Citea SLF-120 Electric in Geneva, during the UITP Mobility & City Transport exhibition in 2013, VDL Bus & Coach has focused strongly on electric mobility.
In 2021, VDL Bus & Coach presented the new generation of electric Citeas. Starting from the VDL vision, a bus concept has been developed that is entirely based on an electric drive train and ready for the future, with zero emissions being a matter of course. Among other things, VDL Bus & Coach is introducing an innovative composite sidewall construction that is 15% lighter than a conventional sidewall. The battery pack is integrated into the floor as standard.
This year, VDL Bus & Coach has continued to make a name for itself as a leading transition partner on the road to zero-emission public transport. With a total of more than 900 electric buses in 11 countries, delivered between 2015 and 2021, VDL Bus & Coach has a market share of 20% in Europe. The 100 million electric kilometres achieved in February of this year represent a saving of more than 14.7 million kilograms of CO2 emissions.