E-bus Radar presents a new functionality: the Manufacturers portfolio
Below, a contribution from ZEBRA (Zero Emission Bus Rapid-deployment Accelerator), a partnership led by C40 Cities and the International Council on Clean Transportation (ICCT), with funding from ClimateWorks. This international alliance works to support the deployment of over 3,000 electric buses onto the streets of Latin American cities. Sustainable Bus acts as media partner.It's the second of a series of articles focusing on […]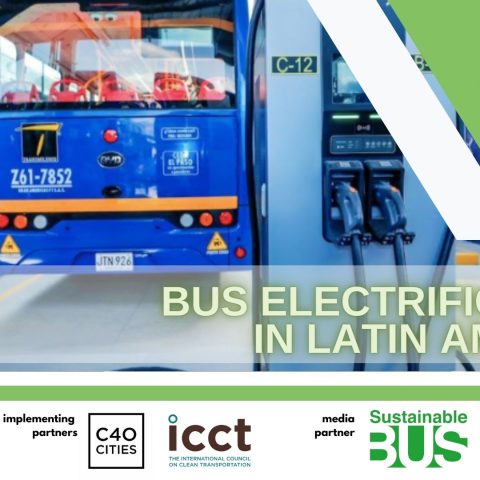 Below, a contribution from ZEBRA (Zero Emission Bus Rapid-deployment Accelerator), a partnership led by C40 Cities and the International Council on Clean Transportation (ICCT), with funding from ClimateWorks. This international alliance works to support the deployment of over 3,000 electric buses onto the streets of Latin American cities. Sustainable Bus acts as media partner.
It's the second of a series of articles focusing on the electrification of bus fleets in the region.
Feedbacks, questions and contributions are welcome (at info@sustainable-bus.com)
Launched in 2020, the E-bus Radar is an online platform that maps electric buses in operation in the public transport systems across Latin America. It is an initiative developed by the Technical University of Denmark and the ZEBRA Partnership, led by C40 Cities and the International Council on Clean Transportation.
The E-bus Radar has become an increasingly well-known and trusted source of information since its inception in 2020, when there were 1,229 electric buses in operation. Now, as of December 2022, the platform includes 3,716 e-buses and over 1,000 more have been procured and are estimated to begin operations in 2023.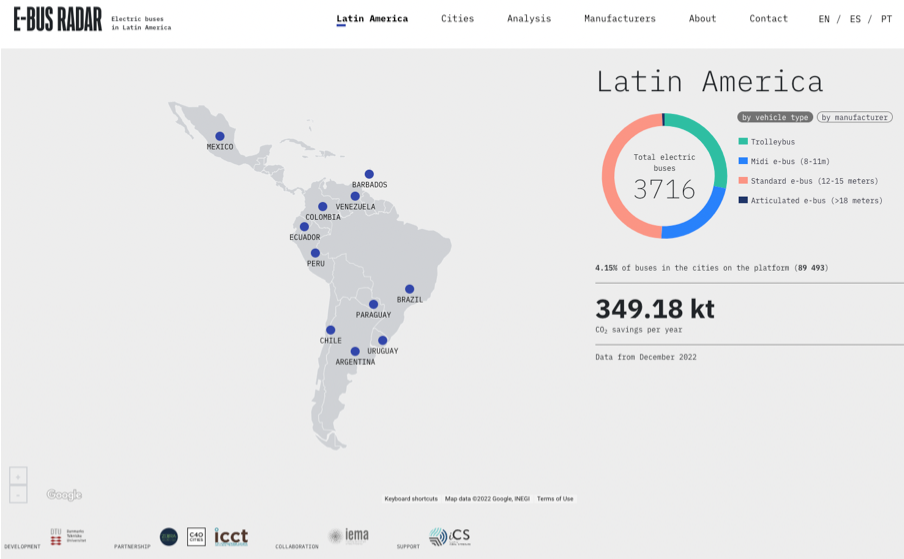 New functionality has been added to the E-bus Radar
The platform is public and shares an overview of electric bus deployment in the Latin American region, as well as the CO2 emissions avoided by these buses' use. The E-bus Radar website aims to showcase the importance and development of the e-bus market in Latin America, offering information in an easy and organized manner.
On the homepage, it is possible to filter by country and/or city to see the number of e-buses in each place, as well as to see the buses categorized by manufacturer and size. The "Analysis" tab provides information on the number of buses added over time, as well as a ranking of countries, cities, and manufacturers.
And now, a new functionality has been added: a Manufacturers tab, which displays a portfolio of electric bus models in operation and commercially available in Latin America, from manufacturers that have signed the ZEBRA declaration. It is possible to filter by manufacturer, type, and size of the bus and/or country. Right now, seven manufacturers and 24 e-bus models are showcased.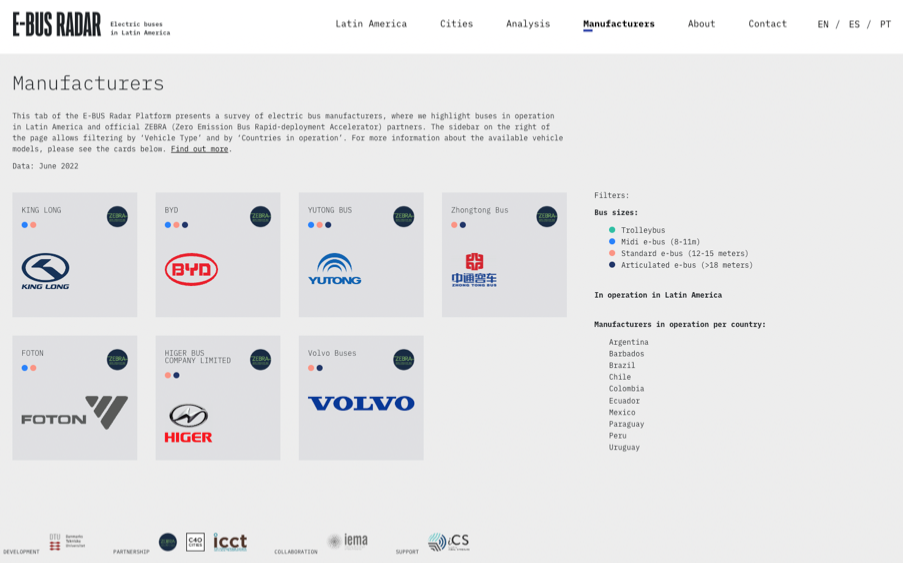 With this easy-to-access portfolio of e-bus models, cities can access the wide array of options available to transition their public transport systems from diesel to electric. The Manufacturers tab also helps foster competition in this market and showcases what is already in place and available for cities and investors.
The platform, available in English, Portuguese, and Spanish, is used as a reference for researchers and professionals in the electromobility sector in multiple countries across the globe. E-bus Radar is updated whenever a new electric bus is deployed. If you notice any e-buses missing from the radar, please let us know by writing to zebra@c40.org.