Electric, hydrogen and italian market: Isuzu's plans. Interview with Tugrul Arikan (managing director)
The agreement with Proterra for the batteries of its 12- and 18-meter ebuses, the challenge of fuel cell and electric motorizations, so much so that two battery electric models will arrive in the next twelve months. And, again, not least, the opportunities brought by gas and the desire to expand business in the Italian public […]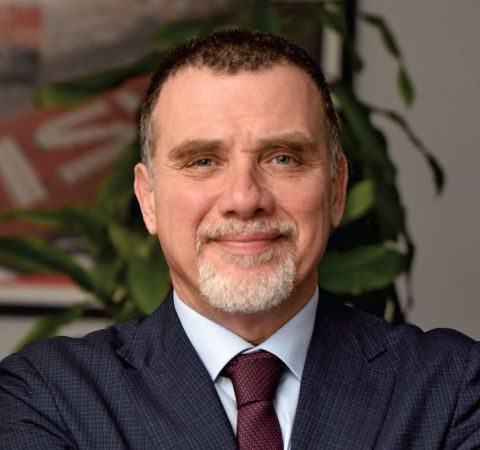 The agreement with Proterra for the batteries of its 12- and 18-meter ebuses, the challenge of fuel cell and electric motorizations, so much so that two battery electric models will arrive in the next twelve months. And, again, not least, the opportunities brought by gas and the desire to expand business in the Italian public sector, both city and intercity. Tugrul Arikan, managing director of Anadolu Isuzu, told us what the company's plans are.
We are towards the end of year 2022. How many vehicles have you sold/registered so far and which are your forecast for end of the year? 2022 was supposed to be the 'recovery year' after Covid… what have you observed in the markets where Isuzu is present?
«We already had a recovery in 2021, thas was already close to 2019 volumes, and in 2022 we expect to have a comeback to 2019 figures. Considering that on the tender side the opportunities today are still limited, in 2022 we have been focusing on retail. In Italy we have a long history with our dealer Officine Mirandola, with more over 1,000 vehicles running, of which almost 700 are buses. We have been focusing on school buses at the beginning, but step by step, from in 2017, we changed our portfolio going towards city applications and transitioning from diesel to CNG versions. Now we are in the phase of building an Ev portfolio».
Indeed: where are you standing in this regards? You launched a 8-meter e-bus… when are other lengths coming?
«Next year we will launch a 12-meter battery electric model and, by the end of the year, also a 18-meter. They'll be in series production by the end of 2024: at that time we will have completed our full line of electric buses. Also Grand  Toro and minibuses will be offered in electric versions. And, at the moment, we are about to kick off the electrification project of the Kendo Class II bus»
Next year we will launch a 12-meter battery electric model and, by the end of the year, also a 18-meter. They'll be in series production by the end of 2024: at that time we will have completed our full line of electric buses

Tugrul Arikan, managing director of Anadolu Isuzu
Which is your strategy in Italy?
«Our main focus in Italy is expanding our business in the public sector, both city and intercity. In this last segment, Kendo 12.3-meter diesel and Kendo 13-meter CNG are doing very well, especially in France, where we have already sold as many as 150 biogas-powered units».
A sum-up of year 2022 in Italy and your sentiment for 2023?
«2022 has been a recovery year on the Italian market. We had over 150-200 vehicles delivered in total (around 150 trucks and 50 buses). Next year we expect to go well beyond this figure».
Do you have any project on LNG buses?
«We started a pilot project in Spain, with the conversion of a 9.5-meter city bus to LNG motor. Now the vehicle is in daily use». 
How are you dealing with electrification with regards to the organization of the plants? Do you produce e-buses on dedicated lines?
«We are dealing with disruptive technologies. And I don't mean only electric mobility: the digital transition is also a key trend. Our R&D is working hard in order to make our vehicles smarter and smarter. Coming to your questions, we started to invest in 2019 in lines with Industry 4.0 standards. Today electric buses are built on a common line that at the end split into two lines, one for ICE vehicles and the other for electric buses. Starting in September we also had solar panels installed on our plant: now we have an average of 70% of our electric needs covered by energy coming from the sun».
Which production capacity do you have available right now?
«We can build up to 7-8,000 units when working at full capacity. At the moment we are close to 2,000. When it comes to e-buses, the difference in man-hours is around 20%: e-buses require a 20% more men-hours compared to ICE vehicles. This is mainly due to the need for additional quality controls. We also made investments in digital transformation: our plant is digital, everything is available online».
In late 2021 it was announced a deal with Proterra as battery supplier for 12-meter and 18-meter Isuzu buses. This marks the entry of Proterra as a supplier for European market, isn't it?
«It's correct. In the last few years we learnt a lot on the supply chain subject. We learned that we need to have more local supply, but that on the other hand we also need to diversify. For the 8-meter Novociti Volt we use CATL batteries. On the 12-meter and 18-meter we started a cooperation with Proterra. Concerning minibuses, Kendo and trucks, we are still in the decision phase. On one side we don't want to depend on a single company, but on the other side we don't want to have too many suppliers».
Most of the manufacturers are looking intensively at fuel cell technology. Which are Isuzu plans on this regard?
«We see hydrogen as a viable alternative especially for long-haul and heavy-duty applications, both buses and trucks. For that segments hydrogen can be a good solution. We are following developments on this technology and we have started a project to develop our hydrogen bus, an intercity high-floor vehicles that will be suitable both for intercity and long-distance services. At the moment we are in the design phase. We'll have our first pilot in 2024».
The Isuzu Kendo CNG looks like a promising alternative for intercity application. We have been witnessing a roadshow of the 13-meter version: are other configuration available?
«In our company we have 250 people working in R&D. Building a 12-meter version of the Kendo CNG would require a lot of work. It'd be easier to design a new bus».
 We see hydrogen as a viable alternative especially for long-haul and heavy-duty applications, both buses and trucks. FWe are following developments on this technology and we have started a project to develop our hydrogen bus, an intercity high-floor vehicles that will be suitable both for intercity and long-distance services. At the moment we are in the design phase. We'll have our first pilot in 2024.

Tugrul Arikan, managing director of Anadolu Isuzu