'Energy transition out of city centers': VIDEO AVAILABLE for the web event featuring Busworld, Transdev, Arriva, Flixbus, Iveco Bus, Twaice, ChargePoint
On Friday 28th October we have organized the web event 'Energy transition out of city center', part of the second edition of the Sustainable Bus Tour. Reason of such a topic is simple : in the public transport world, out of cities the commitment to energy transition goes along with questions about which technological solutions […]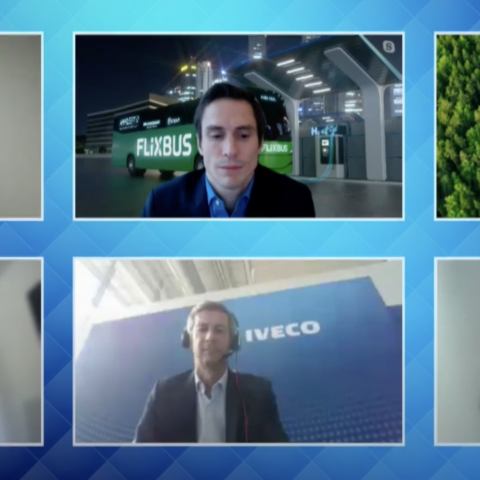 On Friday 28th October we have organized the web event 'Energy transition out of city center', part of the second edition of the Sustainable Bus Tour. Reason of such a topic is simple : in the public transport world, out of cities the commitment to energy transition goes along with questions about which technological solutions to adopt in order to get to the goal.
Intercity and long-distance bus markets are still based on diesel applications. But things are moving fast: gas-powered buses for intercity services are taking a growing share and pilots have been established on the way to the future development of hydrogen coaches.
Jan Deman from the Busworld Foundation shared a presentation on the evolution of the bus and coach markets in the EU and North America.
Transdev and Arriva shared their experience on energy transition, with Jean-Laurent Franchineau from Transdev focusing on projects carried out by the public transport group with biogas, hydrogen, retrofit. Matt Greener, responsible for the Zero Emission Institute of Arriva, highlighted the value of partnerships in order to deal with the challenges of energy transition.
The topic of energy transition in the long distance segment was embodied by Daniel Zellinger, Team Lead Bus Strategy at Flixbus. The Iveco Bus, with Sustainable Mobility Manager Jean-Marc Boucheret; ChargePoint with Senior Director Global Bus Sales Alexander Schabert and TWAICE with Jonas Boehm, Commercial Director Analytics Platform – Mobility.