The New Routemaster has been repowered by Equipmake and is now on trials in London for Metroline
Equipmake showcased at Euro Bus Expo a zero-emission repowered version of the New Routemaster double-decker bus. This process sees its hybrid drivetrain completely replaced with Equipmake's Zero Emission Drivetrain (ZED), which uses 95% British-built component content. The repowered New Routemaster, developed by Equipmake at its base in Snetterton, Norfolk, features a 400kWh battery enabling an […]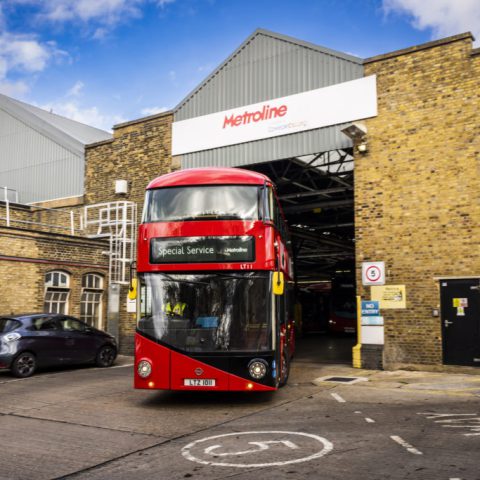 Equipmake showcased at Euro Bus Expo a zero-emission repowered version of the New Routemaster double-decker bus. This process sees its hybrid drivetrain completely replaced with Equipmake's Zero Emission Drivetrain (ZED), which uses 95% British-built component content.
The repowered New Routemaster, developed by Equipmake at its base in Snetterton, Norfolk, features a 400kWh battery enabling an expected in-service range of 150 miles. The development of the all-electric New Routemaster has come about thanks to a programme part funded by the UK Advanced Propulsion Centre (APC). The ZED which features in the New Routemaster can be applied to any existing hybrid or diesel bus.
Trials of the repowered New Routemaster in London
Equipmake says that each conversion comes in at less than half the price of a new electric bus.  
Earlier this year, Equipmake was awarded a contract by First Bus to fully convert 12 Optare Versa buses from existing EV Generation One systems to Equipmake's ZED.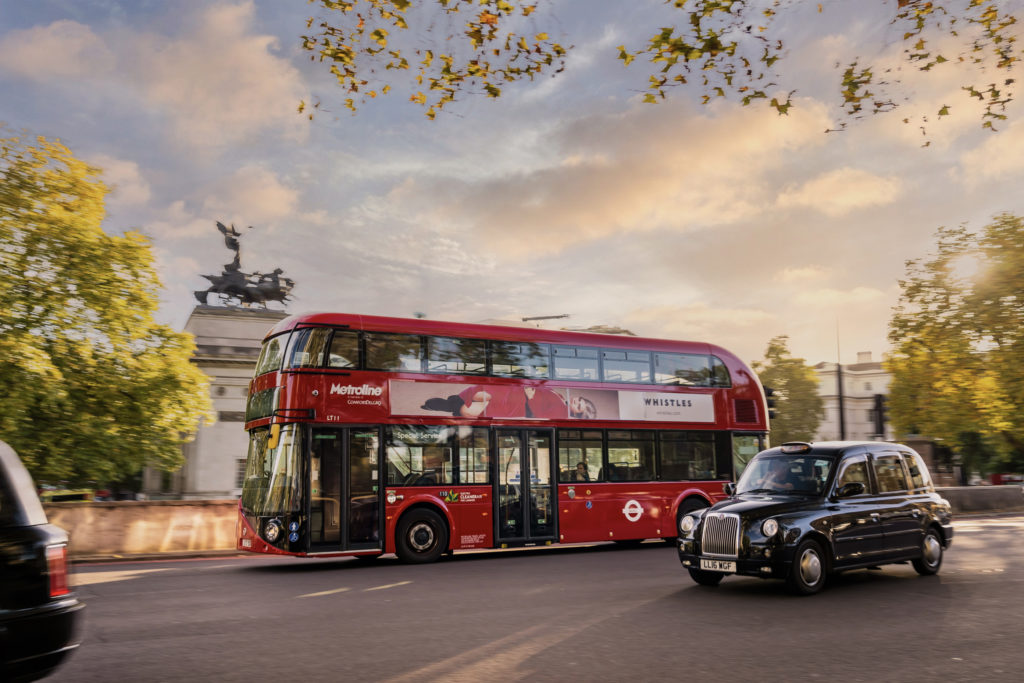 With pre-service trials already started in London, operated by Metroline, the electric version of the New Routemaster will continue to be assessed over the next six months. The programme will deliver valuable test data as Transport for London (TfL) continues to evaluate a range of clean technologies, including repower systems such as Equipmake's ZED, Equipmake points out. Charging infrastructure at Metroline's Holloway depot, alongside battery data analytics for the bus, is being provided by Zenobē.
Over the coming months, Equipmake will be trialling additional repowered buses with other bus operators across the UK, the company states.
New Routemaster with HTM 3500 electric motor by Equipmake
Equipmake says that "One of the ZED's most important features is Equipmake's patented ultra-efficient thermal management system. This maintains all three of the ZED's key components – the battery pack, motor, and inverter – at an optimum operating temperature, maximising vehicle range".
Featuring an advanced water-glycol cooling circuit, the system has the added benefit of providing interior heating during cold conditions with captured thermal energy. When the battery is depleted at the end of a complete duty cycle, it can be recharged at the depot overnight via a CSS DC charging point.
Under the skin, the New Routemaster also features Equipmake's HTM 3500 electric motor. "Seamlessly integrated into the prop shaft without the need for a separate transmission, the motor is precisely engineered to meet the demanding requirements of a fully-laden double-decker bus by producing 3,500Nm torque at a motor speed of just 1,000rpm and delivering 400kW maximum power", supplier says.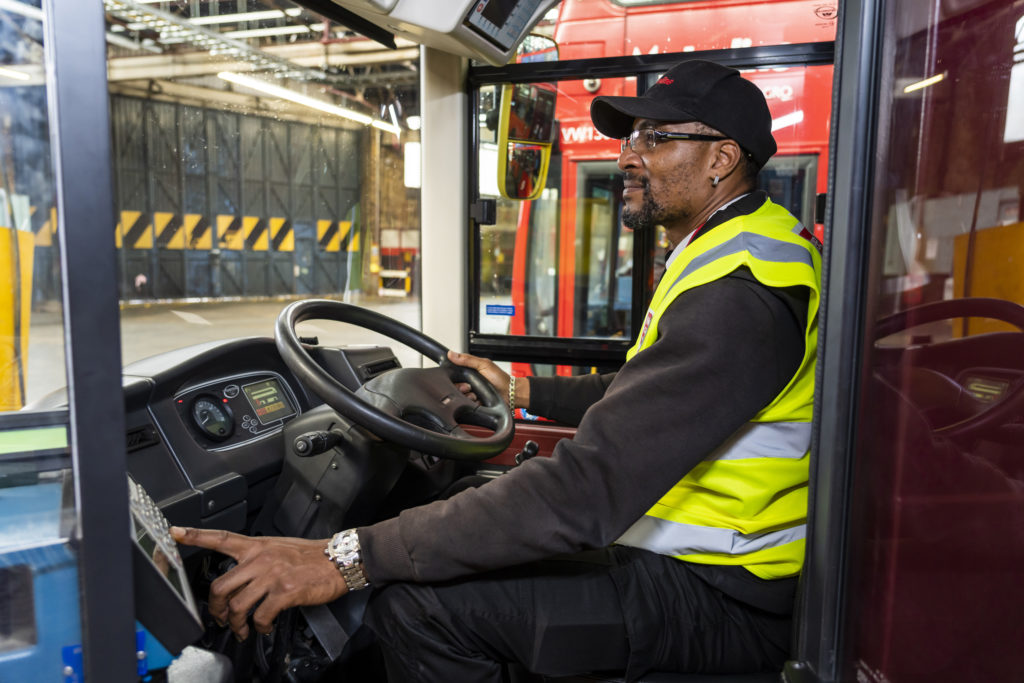 The potential of repowering according to Equipmake and Metroline
Ian Foley, CEO of Equipmake, said: "Repowering is a vital, cost-effective transitionary technology that can bridge the gap between diesel and a new electric bus fleet. We are delighted to showcase our latest repower system in the shape of a zero-emission version of the iconic New Routemaster double-decker bus here today at Euro Bus Expo. London is leading the way in the adoption of green technologies for large commercial vehicles and as TfL continues to evaluate a range of clean technologies, we are confident our repower systems can play a rapid role in accelerating any zero-emission vehicle strategy."
Adrian Jones, Engineering Director, Metroline, said: "Metroline is delighted to trial this innovative fully-electric New Routemaster bus in London. Repowering technology has huge potential in enabling operators to accelerate the transition of fleets to zero emissions and we look forward to further evaluating this test vehicle over the coming six months."  
Equipmake repower programme
Equipmake's repower technology programme involves an inspection of each bus to ensure its adaptability to the company's unique, scalable modular electric chassis. Once its suitability is verified, the process itself is quick, with up to five repowers a week being able to be completed, ensuring buses are off the road for as little time as possible.
Each repower is tailored to specific operator requirements, with service routes simulated to ensure the correct battery power level is selected for optimum performance and efficiency, and guaranteed driving ranges of 150 to 250 miles achievable.
Repowering buses with Equipmake's technology "also means a new lease of life for ICE vehicles which might otherwise be scrapped as operators transition to emission-free driving. Instead of writing off a whole vehicle, repowering means the body and systems are effectively recycled – bringing huge environmental gains with manufacturing vehicles being one of the more polluting and energy-intensive parts of the automotive lifecycle", in Equipmake's words.
Ian Foley continued: "We know there is a clear appetite for repowering technology, with strong demand from operators, which is leading to the expansion of our facilities in Norfolk. Changes to grants for bus operators mean repowering is encouraged, and the DfT's consultation on proposals to end the sale of new non-zero emission buses means demand for our technology will only increase. Add in the associated financial benefits of a repowered bus, and it's easy to see why such vehicles can very quickly bring cleaner air to every town and city in the UK".