Geneva orders further 119 e-buses to Hess. They'll be provided in 2025 with opportunity chargers by Hitachi Energy
Geneva's public transport system has chosen its future e-buses on the way to a full electric bus fleet by 2030. As many as 119 zero emission buses will be provided by Swiss Hess, with Hitachi Energy in charge of infrastructure. The same partners have already been active in Geneva with the TOSA project, and now […]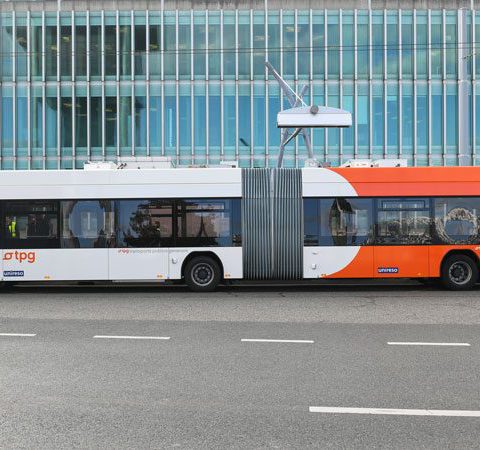 Geneva's public transport system has chosen its future e-buses on the way to a full electric bus fleet by 2030. As many as 119 zero emission buses will be provided by Swiss Hess, with Hitachi Energy in charge of infrastructure.
The same partners have already been active in Geneva with the TOSA project, and now have been awarded the open international call for tenders launched on 24 March 2022, as public transport company TPG announces.
New e-buses are scheduled to go debut in the first half of 2025. This summer TPG has also ordered 38 trams to Stadler. However, the operator underlines that "the complete electrification of the TPG fleet will only represent an increase of 0.9% in the electricity consumption of the canton of Geneva", according to the operator's projections.
Geneva goes with Hess and Hitachi Energy again
After launching the TOSA pilot project with several Geneva partners in 2013, the TPG have been commercially operating a fleet of 12 electric buses on line 23 since 2018. To date, they have travelled 2.8 million kilometres on this route, saving 4,400 tonnes of CO2, the PTO says.
In total, the TPG says it is preparing to order 119 vehicles from Hess which will be assembled in Switzerland. In detail, this will include 65 articulated electric buses and 54 double-articulated electric buses. The infrastructure required to operate this fleet on six lines of the TPG network and at the depots will be produced by Hitachi Energy at its Geneva site. Various options will allow for additional orders to be placed, TPG adds.
Geneva has opted for an opportunity charging system. This solution, developed as part of the TOSA project, is based on rapid recharging of vehicles at the terminals and at one or two stops along the route while passengers are getting on and off (the "biberonnage" principle).
The first vehicles are expected to be put into service in the first half of 2025, after a homologation phase. "It should eventually allow the replacement of all the thermal buses of the TPG which will reach the end of their life (189 Citaro diesel vehicles). This energy transition will be financed by the green loan contracted by the TPG on 1 September 2022 and the investment subsidy voted by the Geneva Grand Council on 14 October 2022″, TPG says.
"In line with our Cap 2030 corporate strategy, we are aiming to operate a 100% electric fleet based on renewable energy by this time," said Denis Berdoz, Managing Director of the TPG.