Netherlands, zero emission bus concession Gooi and Vecht launched. Since 2022 Ebusco and VDL vehicles on the road
In the Netherlands, the Province of North Holland has launched the first emission-free bus concession in the country, operated by Transdev (formerly operating under the name Connexxion). Zero emission buses from VDL and from Ebusco (that will be delivering the 3.0 model) are expected to be on the road since 2022, as the pandemic has […]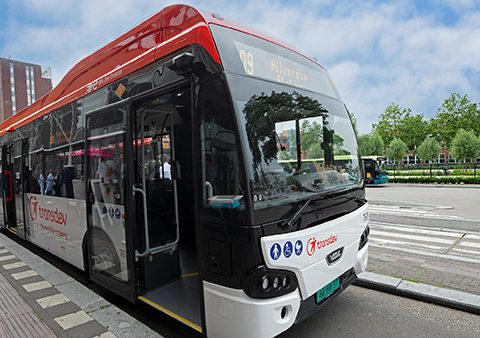 In the Netherlands, the Province of North Holland has launched the first emission-free bus concession in the country, operated by Transdev (formerly operating under the name Connexxion). Zero emission buses from VDL and from Ebusco (that will be delivering the 3.0 model) are expected to be on the road since 2022, as the pandemic has delayed their delivering.
In the course of 2022, all fossil fuel buses will be replaced by electrically powered buses. The new concession Gooi and Vecht region started on Sunday 11 July 2021 and is set to last until December 2030. The other two bus concessions in the province (Holland North, Haarlem IJmond) will end in 2027 and 2028.
Netherlands, zero emission buses for Gooi and Vecht concession
On Sunday, Jeroen Olthof (member of the Provincial Executive of Noord-Holland) and Transdev Dutch CEO Manu Lageirse presented the new buses that will be running in the Gooi and Vecht region from next year. The buses will be operated by Transdev, while the green buses of Connexxion (a Transdev Nederlands' brand) will gradually disappear from the streetscape, the province says.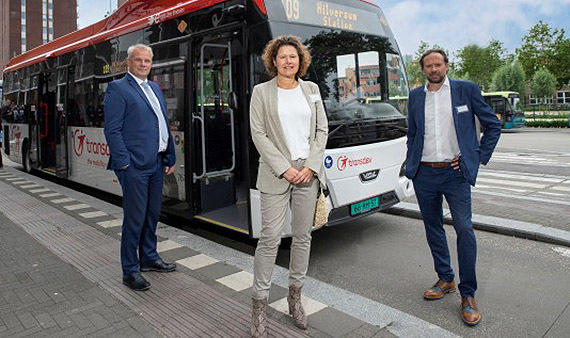 Connexxion's old green diesel buses will make way for electric buses, which are charged with wind and solar energy from the region, Transdev Nederland underlines. The fleet will consist of 28 buses from VDL and 33 buses from Ebusco (being specific: 11 VDL Citea LLE-99, 17 VDL Citea Electric LLE-115, 33 Ebusco 3.0)
Suppliers VDL and Ebusco provided a sneak preview of the new buses during the event. Barely audible, they whizzed into the Hilversum bus station, the two types of electric bus that Transdev will soon be using. One made by VDL is already entirely in the Transdev colors, and the other, the Ebusco 3.0, is made of composite. This makes the bus lighter and therefore has a greater radius of action.
Work on the infrastructure for charging the new buses will continue until the end of this year at four locations in Hilversum and Huizen. In 2022, the entire fleet should be emission-free.
Jeroen Olthof, member of the Provincial Executive: "The roads are getting busier and busier. This means that we have to make smart choices to ensure that the entire province remains accessible and safe. With this step, we show that sustainability is at the heart of our policy-making. These are beautiful buses with zero emissions. A clean bus is good for travellers, for local residents and for our environment.
Transdev Nederlands, making travelling with public transport easier
Next to the buses, Transdev NL is improving travel information, travel products and customer service in Gooi & Vechtstreek via customized solutions:
Bus lines will be recognizable for travelers by using clear line colors. These colors can be found in the trip planner, on the bus stop signs and on the route map. This makes the journey, especially for people who travel by bus occasionally, easier. In 2022 the line colors will also be applied to the new electric buses.
G&V is implementing Mobility as a service. Passengers can use the new Transdev Mobility app, a handy app that allows you to plan, book and pay for your entire trip. This applies not only to buses and trains, but also to shared bicycles, for example. This will make public transport increasingly easy and personal.
Travel products are becoming more flexible to meet the needs and wishes of as many travelers as possible. That is why Transdev NL is introducing 'Gooi and Vechtstreek Voordeel', which makes traveling fairer, simpler and more flexible. With this flexible product, travelers pay once a month for all their public transport trips. The more you travel within Gooi en Vechtstreek, the more discount you receive.
At Hilversum Station and Huizen Bus Station, Transdev NL offers more personal service and comfort to our passengers. In Hilversum, travelers can go to the Transdev Service desk with questions and comments or to recharge their OV-chipkaart. This desk offers a personal service to (vulnerable) passengers who need it. At Huizen Busstation, Transdev will open a waiting room, where travellers can wait for the bus in comfort.