Germany, Halle invests in TINA trams. 56 Stadler vehicles awaited starting in 2025
The German city of Halle (Saale), too, is resolutely relying on trams as the ecological transport of excellence, and is doing so with an innovative vehicle, the TINA. After Darmstad's HEAG Mobilo, Basel Land Transport (BLT) and Rostocker Strassenbahnen (RSAG), the nice German city will also roll out the new-generation trams produced by Stadler. On […]
The German city of Halle (Saale), too, is resolutely relying on trams as the ecological transport of excellence, and is doing so with an innovative vehicle, the TINA. After Darmstad's HEAG Mobilo, Basel Land Transport (BLT) and Rostocker Strassenbahnen (RSAG), the nice German city will also roll out the new-generation trams produced by Stadler.
On 23 August 2022, an agreement was signed between Stadler and HAVAG (Hallesche Verkehrs AG), which operates Halle's urban transport, for the supply of 56 new TINA trams, the first of which will be in operation in 2025.
Halle to receive 56 TINA trams
Halle, a city in Saxony with a population of 238,700, some 130 km from Berlin, has had a tram network since 1882; after nine years of horse-drawn operation, the first electric trams were introduced in 1891.
Today the network is organised on 13 lines, two of which (94 and 95) run during the evening and night hours, for a total length of 88 km; some lines (1,2,7) also have evening-night runs. The frequency of the lines is 15 minutes, while journey times vary between 16 and 40 minutes on average. The gauge is 1,000 mm, the voltage 750 V.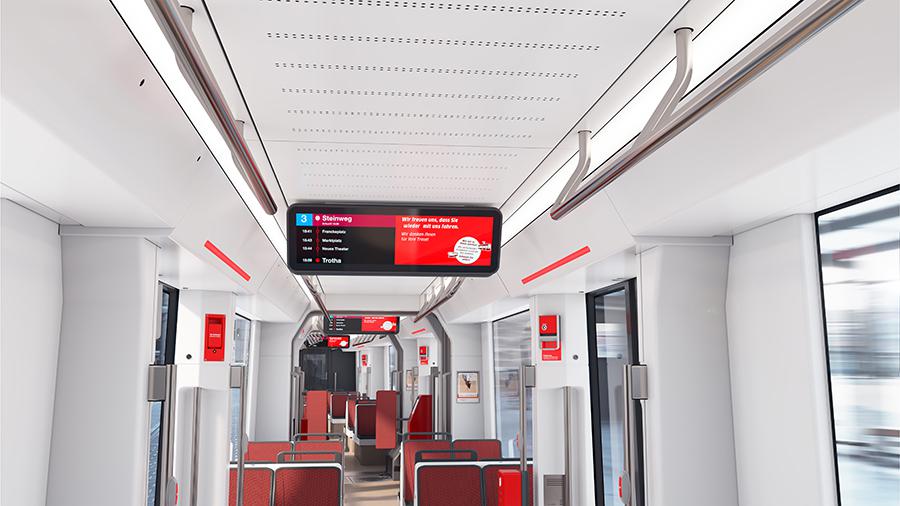 There are currently a hundred trams in the fleet, of which 60 (series 601- 660, model MGT6D) were built by Duewag between 1996 and 2001, and 42, (series 661- 702, model MGT – K) were built by Bombardier between 2004 and 2013. A relatively young fleet, part of which HAVAG has planned to replace, and part to extend, thanks to the new trams, which once again confirm the policy of increasingly environmentally friendly public transport.
TINA project in Germany
The TINA project (German acronym for Total Integrated Low-Floor drive) has set as its main objective passenger comfort, i.e. ease of boarding, interior space available to passengers and luminosity, all with respect to energy consumption. Certainly a successful project, in particular the study of the bogies, and the layout of the electrical and electronic control systems, allowed the floor to be entirely lowered, even between the inter-communication modules, with a significant increase in space for passengers. There is a complete absence of steps, wider aisles, and the presence of several multi-purpose areas that will ensure maximum comfort for both disabled passengers and those with pushchairs. The very wide doors will allow easy and quick wrapping. The large windows and the height of the ceiling further enhance the feeling of space even overhead. High-efficiency, low-consumption lighting will ensure a daylight effect even during daylight hours. There will also be climate control and video surveillance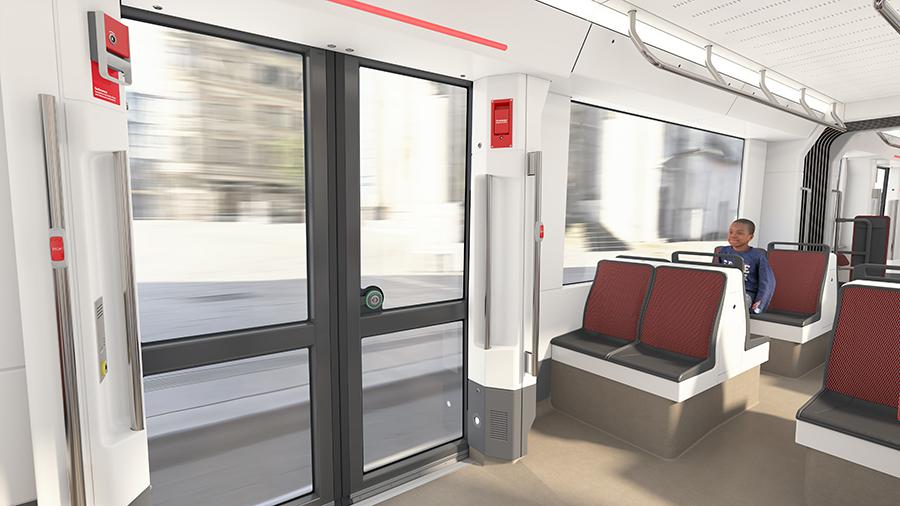 Much attention will be paid to the aspect of customer communication. The new trams will have modern cashless ticket machines, a video monitoring system the BIOS system, a new technology for better information and orientation for the blind and visually impaired on public transport, a technology developed in Halle itself. An onboard anti-collision system will also be provided.
30-meter and 45-meter trams awaited in Halle
The supply includes bi-directional vehicles of two different lengths. 39 vehicles will be of the MGT-T type, 30 metres long, and will have a total capacity of 166 passengers, of whom 64 will be seated. 17 trams will be of the MGT- XL type, 45 metres long, and will be able to carry as many as 267 passengers, of whom 96 will be seated.
With conviction, the state of Saxony-Anhalt financed the purchase of the new vehicles, as Sven Haller, the state's transport minister, specified at the signing of the contract. The new trams will ensure an even more competitive and comfortable transport offer, which will lead to citizens preferring public transport even more for their journeys.
Vinzenz Schwarz, president of HAVAG, emphasises the company's efforts to choose new-generation trams that are more comfortable and safer for both passengers and drivers. Also satisfied was the mayor of Halle, Egbert Geier, who emphasised the city's focus on mobility and environmental sustainability, now fundamental topics in public transport.
For Ansgar Brockmeyer, executive vice-president marketing and sales at Stadler, the closing of the fourth order is important and synonymous with recognition of the success of the TINA model, which among other things sets new standards in terms of ease of use and maintenance.
By Stefano Alfano
Credit pictures: Havag – Halle site