Hamburger Hochbahn raises €300 million in green capital for sustainable projects
Hamburger Hochbahn has raised €300 million from institutional investors and will use this money to finance the energy transition of the fleet and in general proceed to the transformation of its public transport activities on the way to the goal of having Hamburg's buses and trains climate-neutral by 2030. Indeed, the €300 million raised by […]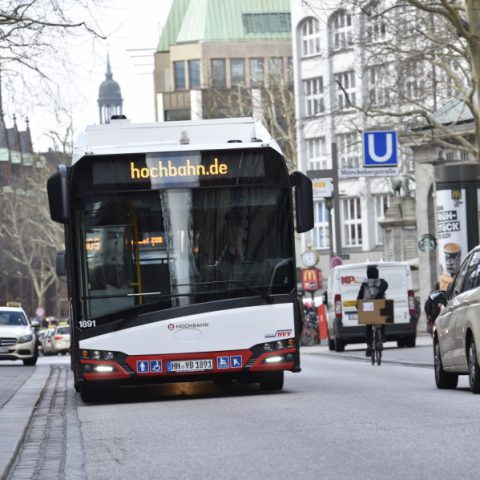 Hamburger Hochbahn has raised €300 million from institutional investors and will use this money to finance the energy transition of the fleet and in general proceed to the transformation of its public transport activities on the way to the goal of having Hamburg's buses and trains climate-neutral by 2030.
Indeed, the €300 million raised by Hochbahn will be exclusively invested in sustainable projects. Approximately 50 percent of the funds will be allocated to the underground sector, including the automation of underground trains. The bus sector will receive around 40 percent of the funding, advancing the electrification efforts through the procurement of e-buses.
Hamburger Hochbahn sustainability projects with green bonds
Following the issuance of the first green infrastructure bond by a German transport company in 2021, the operator has now implemented a particularly flexible financing model. Instead of a single green bond package, the company has issued several tranches of "green" promissory note loans and registered bonds.
The issue was oversubscribed three times, indicating the company's appeal as a stable and profitable investment partner, the operator points out. This model aligns well with the current market conditions, and the average annual interest rate stands at 3.81 percent. DZ BANK AG, BNP Paribas, and Helaba Landesbank Hessen-Thüringen supported the transactions as part of a banking consortium.
Merle Schmidt-Brunn, Hochbahn Board Member for Finance and Sustainability, states: "With the support of the consortium, we have further developed a well-known financing instrument in line with our sustainability strategy. We are pioneers in public transport, just as we were with the Green Bond. The rapid subscription of the bonds, even in these turbulent times, is a great sign for Hamburg and Hochbahn."
Anjes Tjarks, Hamburg's Senator for Transport and Mobility Change and Chairman of the Supervisory Board of Hochbahn, emphasized the importance of public transport in achieving climate targets: "We aim to make Hamburg's buses and trains climate-neutral by 2030, offering attractive sustainable mobility options and advancing the mobility transition. Strong investments are necessary, including the electrification of our bus fleet and the expansion of rail and road services. With this new financing model, Hochbahn can invest €300 million in e-charging infrastructure, new bus depots, e-buses, and the partial automation of our underground trains. These developments will increase frequency and enhance the service's attractiveness to passengers. By expanding its role in the "green" capital market, Hochbahn reaffirms its position as a nationwide pioneer in sustainable mobility."
Andreas Dressel, Hamburg's Finance Senator, comments: "The high demand from investors reflects great confidence in Hamburger Hochbahn, our city, and our sustainability goals. Once again, we are making an important contribution to sustainable finance, in line with the objectives of our master plan in partnership with the Chamber of Commerce and the financial center".