Hitachi Energy to power e-buses in Berlin with Grid-eMotion Fleet system
Hitachi Energy Grid-eMotion Fleet charging system will be implemented in two new depots in Berlin, where the city operator BVG has set the goal of a zero-emission bus fleet by 2030. 90 e-buses will be deployed in 2022, according to plans. Infrastructure's provider Hitachi Energy (who is supporting the webinar Powering the future of public […]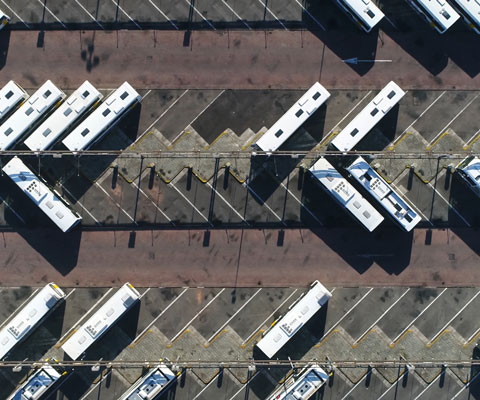 Hitachi Energy Grid-eMotion Fleet charging system will be implemented in two new depots in Berlin, where the city operator BVG has set the goal of a zero-emission bus fleet by 2030. 90 e-buses will be deployed in 2022, according to plans.
Infrastructure's provider Hitachi Energy (who is supporting the webinar Powering the future of public transport, part of the Sustainable Bus Tour scheduled on Thursday) has won an order from Berliner Verkehrsbetriebe (BVG), Germany's biggest municipal public transportation company, to supply its Grid-eMotion Fleet smart charging infrastructure to help BVG transition to sustainable mobility in Berlin, the country's capital.
The same charging system, launched in mid-2020, was ordered in Swedish Västerås, where a batch of e-buses from Volvo has been launched.
Hitachi Energy to provide e-bus charging system in Berlin
Hitachi Energy will provide a complete Grid-eMotion Fleet grid-to-plug charging infrastructure solution for the next two bus depots to be converted in the bus electrification program. Hitachi Energy's solution, the group says, "offers the smallest footprint for both the connection, as well as low noise emissions and high reliability – three key requirements for bus depots in a densely populated urban environment, where space is limited and flawless charging is vital to ensure buses run on time".
The solution comprises a connection to the distribution grid, power distribution and DC charging infrastructure with charging points and smart charging systems. Hitachi Energy will perform the engineering and integrate, install and service the entire solution. The solution, Hitachi Energy adds, "has a compact and robust design that requires less equipment than competing infrastructure, which results in a small footprint, lower operating and maintenance costs, and higher reliability. Typically, Grid-eMotion Fleet requires 60 percent less space and 40 percent less cabling than alternative charging systems; it also provides superior overall system reliability".
"We are delighted to help the City of Berlin in its transition to quiet and emission-free transportation and a sustainable energy future for the people of this iconic capital," said Niklas Persson, Managing Director of Hitachi Energy's Grid Integration business. "We feel the urgency and have the pioneering technology and commitment to advance sustainable mobility, thus improving the quality of life of millions of people."