17 Irizar e- buses in Portugal. A 43-units bus order by Guimabus
Irizar is set to supply 43 buses and coaches to Guimabus, the company that will operate the transport concession in the municipality of Guimarães for a period of 10 years. Operator Guimabus, from the Vale do Ave Group is acquiring 17 zero emissions Irizar ie bus electric buses and 26 Low Entry diesel Irizar i3 […]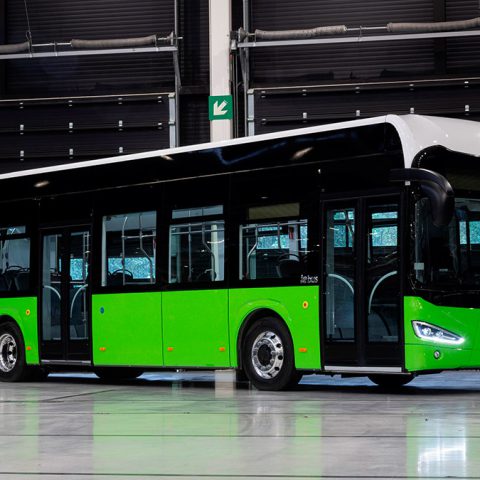 Irizar is set to supply 43 buses and coaches to Guimabus, the company that will operate the transport concession in the municipality of Guimarães for a period of 10 years.
Operator Guimabus, from the Vale do Ave Group is acquiring 17 zero emissions Irizar ie bus electric buses and 26 Low Entry diesel Irizar i3 coaches, in addition to nine chargers for slow charging in the depot.
The Irizar Group announces it has won the acquisition contract for 43 buses and nine chargers for the urban public passenger transport services for Guimarães.
In total, 17 of the buses are electric Irizar ie bus zero emissions 12 metre long buses with as much as 434 kWh battery capacity, 16 are urban Class I diesel buses and 10 are class II intercity diesel buses, both Irizar i3 Low Entry model that are 12 and 12.75 metres long respectively.
Alongside the electric vehicles nine 150 kW chargers from Jema Energy (an Irizar Group company) will be provided. The chargers will be installed in the garages for charging the buses at night.
One common characteristic of all the buses is that they are equipped with a low floor and PRM platform for passenger accessibility and they have a space inside reserved for PRM, in addition to fire extinguishing systems.
In addition to the buses providing the environmental benefits of zero CO2 emissions and low noise levels, especially the electric ones, they stand apart because of their modern attractive design and because comfort, accessibility and safety are maximised. These vehicles will completely renew the current fleet of the Guimarães urban and municipal services and drastically reduce emissions levels.
The Irizar Group is thus gaining ground and consolidating their presence in Portugal in the occasional, intercity and urban markets. Bigger every day, small and medium companies are choosing Irizar with complete confidence