Iveco Bus to provide 65 e-buses in Belgium for De Lijn
Iveco Bus has announced that it has signed a framework agreement with De Lijn, a government-owned public transport group in Flanders, for the sale of a first batch of 65 E-Way full electric city buses and "additional batches up to a total of 500 vehicles", as the manufacturer puts it. Interestingly, this is the first […]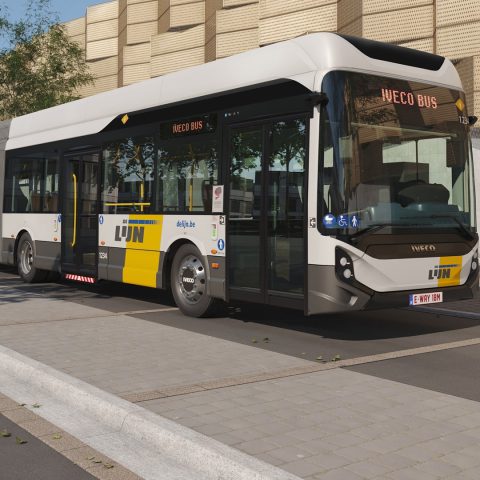 Iveco Bus has announced that it has signed a framework agreement with De Lijn, a government-owned public transport group in Flanders, for the sale of a first batch of 65 E-Way full electric city buses and "additional batches up to a total of 500 vehicles", as the manufacturer puts it.
Interestingly, this is the first order for zero emission articulated buses landed by De Lijn, that has huge plans for energy transition in public transport (a framework procurement for 1,250 e-buses launched in early 2022).
Small e-buses to be provided by CRRC
Of these frameworks, De Lijn specifies that it has tendered so far for 75 articulated, 17 BRT 18 meters and 7 small e-buses. The 7 small e-buses, destined for operation in Bruges, were ordered in September 2022. They will be supplied by Yes-EU, the importer of buses from inter alia CRRC.
This week, De Lijn ordered 75 normal articulated e-buses from Iveco and 17 BRT e-buses (18 m) from VDL.
De Lijn spokeperson highlights that "For follow up orders, we may either continue within the existing framework or start a new tender. So there is no commitment or decision from our part to order the remaining 425 18 m articulated (the maximum allowed for this framework by our Board) from Iveco".
De Lijn goes with Iveco for articulated e-buses
The Iveco E-Way vehicles will be deployed in multiple cities in Flanders, with deliveries starting in 2024 and potentially continuing over a period of six years, still according to Iveco Bus.
The E-Way bus has 800 units already in operation that have completed 42 million km. Available in 4 different lengths, it offers a choice of overnight slow charging or fast charging using a pantograph. The 18m-long articulated units for De Ljin will be equipped with a high-performance battery pack assembled at the new FPT Industrial ePowertrain plant in Turin, the manufacturing site fully dedicated to the production of Iveco Group's electric powertrain range and its first totally carbon-neutral plant.
2,000 Iveco e-buses will be deployed
"Iveco Bus was among the pioneers on the frontier of electric mobility. We invested significantly to develop a complete range of emission-free mobility products and services. This new agreement – which follow the recent one with Busitalia and brings the number of our electric buses ordered to up to 2,000, for 60 customers in 14 different European countries – confirms that our offer is widely appreciated and that our strategy is a winning one", said Domenico Nucera, President Bus Business Unit, Iveco Group.
"Thanks to this first order of articulated full electric buses, we confirm our full commitment in offering an ever more sustainable mobility wherever we operate. For this next step towards zero emissions solutions, we chose Iveco Bus, a well-known manufacturer in this field, and its E-Way 18m-long, that best met our expectations in terms of range, comfort and safety, both for our passengers and drivers", commented Ann Schoubs, Managing Director of De Lijn.