Iveco Bus and Via Transportation start a cooperation on on-demand transport and autonomous shuttles
Iveco Bus and tech company Via Transportation have signed a Memorandum of Understanding (MoU) to explore possible future collaborations in the development of tailored on-demand public transportation solutions and associated digital services for buses. It was announced during the international event Beyond Iveco Group. Founded in 2012, Via has the goal of using new technologies […]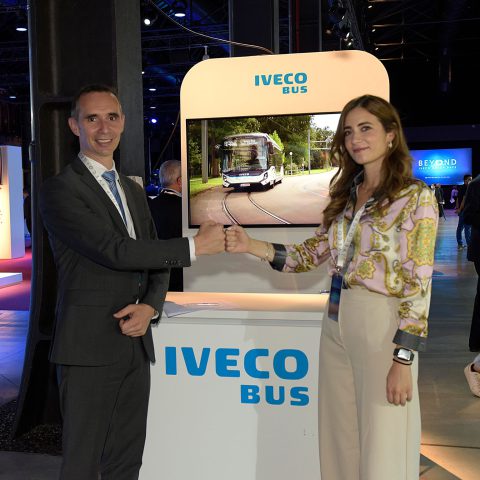 Iveco Bus and tech company Via Transportation have signed a Memorandum of Understanding (MoU) to explore possible future collaborations in the development of tailored on-demand public transportation solutions and associated digital services for buses. It was announced during the international event Beyond Iveco Group.
Founded in 2012, Via has the goal of using new technologies to develop public mobility systems through the optimization of networks of buses, shuttles, wheelchair accessible vehicles, school buses, autonomous vehicles, and electric vehicles around the globe.
Iveco Bus with Via Transportation
Iveco Bus and Via "share the view that the mobility ecosystem is evolving towards a highly digitalized and integrated multimodal system, and that on-demand transport has proven to be efficient in delivering results. The MoU is a first step for discussing the possibility of developing future mobility solutions – from demand-responsive transportation powered by alternative energies to autonomous public transport", the two companies say.
The add that "Discussions will include solutions to make demand-responsive transport more easily accessible to PTAs and PTOs through easy-to-deploy complete packages that integrate seamlessly into the pre-existing urban or rural transport system. Iveco Bus and Via will also explore opportunities for autonomous on-demand shuttles".