Kempower to deliver 70 fast chargers for Keolis' e-buses in Gothenburg (Sweden)
Kempower announces it has been chosen to deliver electric bus fleet fast charging solutions to Keolis in Gothenburg, Sweden. The delivery will cover approximately 70 fast chargers, including Kempower S-Series and C-Series fast charging systems. As part of achieving the goal of electrifying all the traffic in Gothenburg's city by 2030, Västtrafik, public transport service […]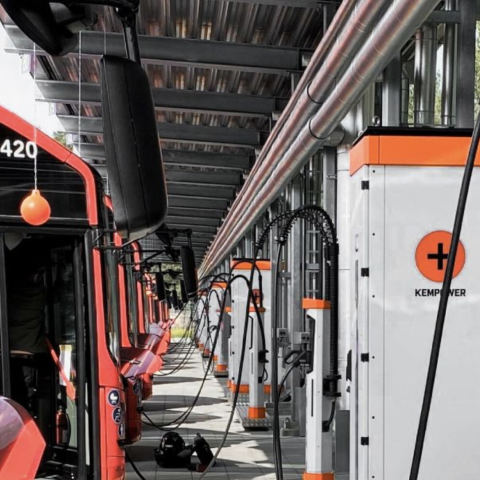 Kempower announces it has been chosen to deliver electric bus fleet fast charging solutions to Keolis in Gothenburg, Sweden. The delivery will cover approximately 70 fast chargers, including Kempower S-Series and C-Series fast charging systems.
As part of achieving the goal of electrifying all the traffic in Gothenburg's city by 2030, Västtrafik, public transport service provider in Sweden, continues with its major investment in electric buses to build sustainable and attractive cities. The bus depots with Kempower charging solutions will be commissioned by Wennstrom Sweden in 2022 and a total of 60 new electric buses will be put into service before the end of the year. Västtrafik's bus depot is operated by Keolis Sweden, which is part of one of the world's largest operators in public transport, and which operates the traffic in central Gothenburg.
"With the partnership of Wennstrom and Kempower, we have a reliable Nordic supplier that is at the forefront when it comes to technology development and software. The load balancing system was crucial for our choice of hardware because it smoothly adapts charging to the power available," says Joacim Törnqvist, Specialist of Electric Vehicles at Keolis.
"We are pleased to be involved in electrifying Swedish public transport through this Nordic co-operation. In Sweden, bus traffic is electrifying rapidly, and within a short period of time, Gothenburg is already the fifth city in the country where we will supply our bus fleet charging technology," says Tomi Ristimäki, CEO of Kempower.