Kreisel Electric and Shell announce they have developed a unique battery solution combining Kreisel's lithium-ion battery module technology with Shell's thermal management fluid. The Kreisel and Shell battery system stands out for being based on immersive cooling technology (cells are fully immersed in the fluid). It can be used in both passenger and commercial electric vehicles, as well as in other sector applications requiring high performance electric batteries. Kreisel Electric and Shell are now forming a strategic alliance and will jointly market the solution, the companies announce in a press note released on 18th November 2020.
Kreisel Electric was founded in 2014, is based in Austria and has been known so far for having been involved in the development of the first electrified Hummer prototype presented in 2017 with Arnold Schwarzenegger)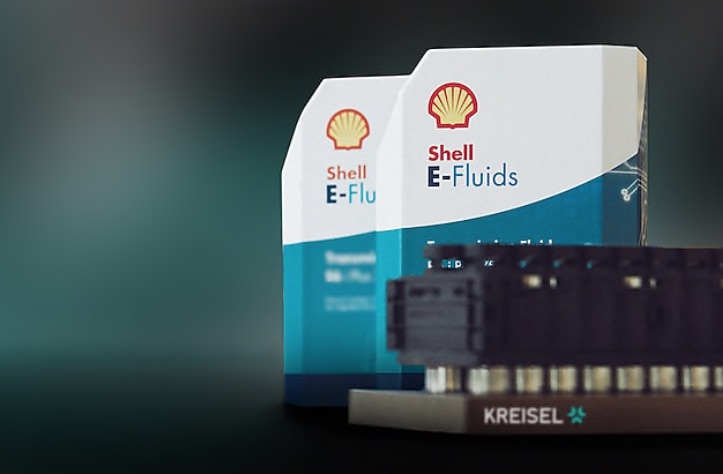 Kreisel Electric with Shell for a new generation battery
Battery efficiency is closely linked to the energy required to either heat up or cool down the battery so it reaches its optimal operating temperature. With the Kreisel and Shell solution the two companies highlights that less energy is spent regulating the battery temperature because the specialized fluid has strong thermal management properties and also touches more of the surface of the battery cells.
The Kreisel and Shell solution delivers improved energy efficiency of up to 28% for the battery cooling when compared to conventional side wall cooling as commonly used in the automotive industry, it is stated. Stronger battery performance can result in improved range relative to battery size, as well as a longer lifetime and superior safety when compared to other current conventional lithium-ion batteries.
Kreisel – Shell battery for fast-charging
The Kreisel and Shell solution also performs better under fast-charging conditions. Fast-charging over time can impact a battery's state of health and the amount of energy the battery can hold. The Kreisel and Shell battery system can have up to 80% battery lifetime improvement when fast-charging, producers highlight. Kreisel Electric and Shell will also conduct combined R&D to enhance battery and fluid technology system.
Kreisel Electric has designed a laser-welded battery solution that includes single cell fusing and controlled de-gasing channels. This in turn is combined with high energy cells and results in excellent power-to-weight ratio and extended battery lifetime when compared to common conventional batteries, while still delivering critical battery stability and safety. The efficient design and the innovative thermal management system enable competitive and automated production. Shell has developed a specialised non-conductive thermal management fluid, which immerses the battery cells in the Kreisel battery design.
Shell bets on batteries with Kreisel
"Working with Kreisel Electric and its cutting-edge battery technology allows us to deliver our mutual commitment to improve electric battery safety and stability while simultaneously improving their performance," said Selda Gunsel, Vice President, Global Commercial Technology, Shell. "Immersive cooling technology plays a key role in the next generation of batteries and its benefits will help speed up the adoption of battery electric solutions, especially in the transport sector."
"Shell has always been committed to improving the efficiency, performance and lifetime of engines, so it is no surprise that they have also developed the best fluid for active battery immersion cooling," said Markus Kreisel, Managing Director of Kreisel Electric. "Shell's fluid is an integral part of Kreisel Electric's battery modules. It effectively controls the temperature of each individual battery cell, even during fast-charging or rapid acceleration. This stabilises the cells, which in turn offers a superior safety environment. The Shell fluid also improves cell performance, resulting in a high power-to-weight ratio that delivers improved range and extends their lifetime."
"Electrification has a vital role to play in decarbonisation pathways especially for the future of mobility," said Carlos Maurer, Executive Vice President, Global Commercial, Shell. "Collaboration is key. By joining forces with Kreisel Electric we can help meet customers' demand for competitively priced, powerful, lighter, safer and longer lasting battery systems."