Scottish operator Lothian orders 50 DD e-buses from Volvo (with MCV bodywork) for Edinburgh
Scottish bus operator Lothian has announced an order for 50 new Volvo BZL Electric double deck buses, each with MCV bodywork, for Scotland's capital city Edinburgh. At an investment of over £24million, Lothian will introduce these new vehicles in two batches across 2024, with the first vehicles appearing on Edinburgh's streets in early spring. Lothian […]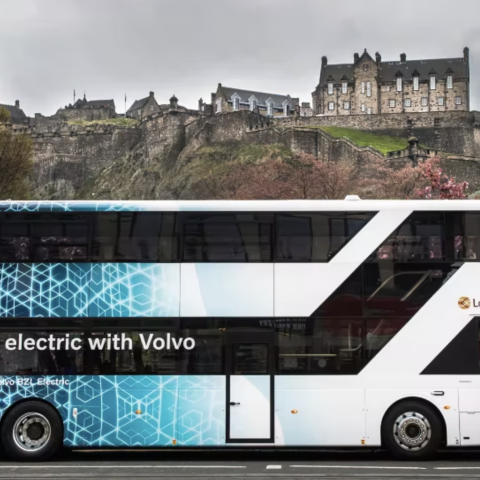 Scottish bus operator Lothian has announced an order for 50 new Volvo BZL Electric double deck buses, each with MCV bodywork, for Scotland's capital city Edinburgh.
At an investment of over £24million, Lothian will introduce these new vehicles in two batches across 2024, with the first vehicles appearing on Edinburgh's streets in early spring.
Lothian – Volvo – MCV for Edinburgh e-buses
The delivery of cleaner and greener buses into the fleet is key to Lothian's 'Driving towards Net Zero' environmental strategy, launched last week. The strategy outlines the company's plans for ongoing investments in zero tailpipe emission buses and infrastructure across the next decade.
The 50 Volvo BZL Electric double decks will offer improved comfort and quieter journeys, each accommodating over 70 passengers and featuring Wi-Fi, high back seats and handy USB charging points.
Drivers will also benefit from a calm and quiet workspace which reduces stress, whilst a camera-based mirror system improves vision in all conditions.
The new buses will be powered by Volvo's pure electric driveline which comprises a 200kW electric motor coupled to a two-stage automated gearbox. Each vehicle has been specified with five lithium-ion batteries giving the maximum 470kWh of onboard energy storage – offering a range up to 300km depending on operating conditions, as the manufacturer claims.
They will be charged overnight at new charging stations being installed within the company's Annandale Street garage. Once plugged in, a full charge takes 3-4 hours.
Lothian introducing further 50 zero-emission double-decker buses
Sarah Boyd, Managing Director of Lothian, said: "We are delighted to be working with Volvo Buses to introduce a fleet of 50 zero emission double decks to our fleet. Lothian continues to support the Scottish Government and City of Edinburgh Council's strategies to improve local air quality, and this level of investment ensures that we as a business are playing our part in improving air quality across the city. These buses are not only fitted with the latest zero tailpipe emission drivelines; they also offer an enhanced customer experience for the millions of passengers who choose to travel with us every week."
Domenico Bondi, Managing Director of Volvo Bus UK & Ireland, added: "Lothian put our BZL Electric demonstrator through its paces for more than four months, and it performed fantastically. Feedback was universally positive – from drivers, passengers, and Lothian management – plus the vehicle's range was more than sufficient for a full day's operation in Edinburgh, proven on even the coldest of winter days. It is a huge privilege to secure this landmark electric bus order from Lothian, and we are confident the BZL Electric will play a pivotal role in supporting our customers ambitious net-zero strategy, which resonates strongly with Volvo's own ambition to create zero-emission cities. We look forward to continuing our partnership and working closely with Lothian to achieve our common goal of a greener, more sustainable tomorrow."