Mumbai aims to bring in operation 340 electric buses (140 12-meter and 200 midibuses). To this extent, a Request for proposal has been issued by the Brihan-Mumbai Electric Supply and Transport Undertaking (BEST) on 30th December. The tender has been floated under the FAME India Phase-II phase in the city of Mumbai, as reported on the media Mercom India. The last date for the submission of bids was January 7th 2020.
In September 2019, BEST launched a new fleet of 10 Olectra-BYD 9-meter eBuzz K7.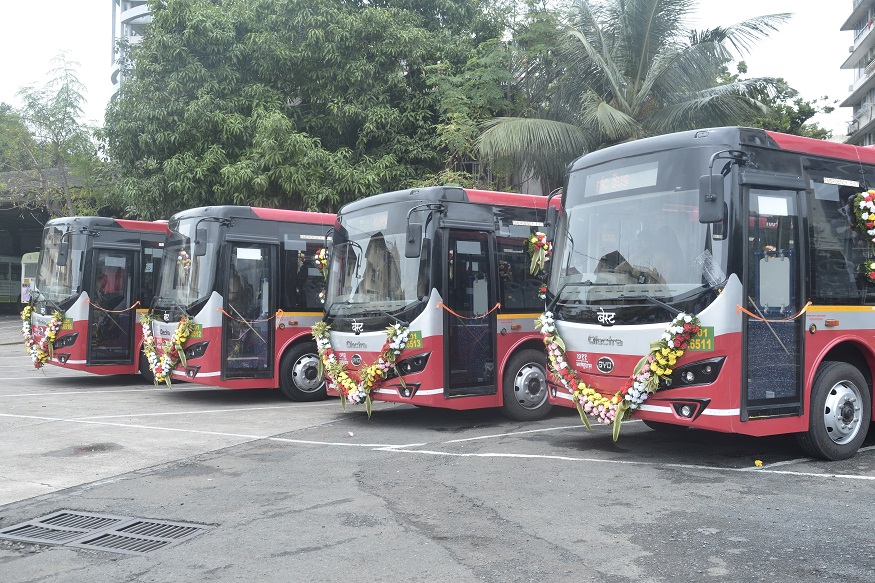 Electric buses in Mumbai, BEST looks for operator
The tender looks for a subject who will be in charge of the procurement of buses along with the operation and maintenance of the routes provided by BEST. Therefore, the bidder must form a consortium with a manufacturer (that must have an electric bus production plant in India). Lifespan of the contract will be ten years.
Among the requirement there is the capacity to cover between 3 and 4 hours of operations on a single charge. Bidders, as reported on Mercom India, «must quote the rates on a 'rupees per kilometer' basis for a monthly assured range of 4,750 km for standard AC buses and 4,200 km for midi AC electric buses».
Midi AC buses are requested to have a seating capacity of about 40 passenger, 60 for the standard-size vehicles. The buses should operate for 3-4 hours on a single charge. The bidder should also have executed or undertaken at least one project of at least 45 buses in a single order for any state transport undertaking or government organization during the last two years.
BYD – Olectra to increase production
BYD announced late in 2019 that is planning to increase the electric bus production in India, under the umbrella of the joint venture with Olectra (formerly Goldstone) to 5,000 vehicles per year from the 2,000 that are built now. The news has been reported on Business Standard, quoting a statement by Ketsu Zhang, executive director of BYD India. BYD is also investing $68.8 million in a manufacturing facility based in Karnataka to help bring down the cost and increase the localisation content of the buses. Reportedly, in October 2018 Olectra-BYD has signed a contract with the north Indian state of Uttarakhand to deliver 500 electric buses.
India and bus electrification. Lot of room for adoption
India is on an ambitious journey to electrify 30% of its vehicle fleets by 2030 as proposed by government think tank Niti Aayog. Testing of operational feasibility of electric buses, cars, two-wheelers, rickshaws, taxis and goods vehicles, are already making in-roads.
Buses are one of the leading segments driving this change, with the most aggressive efforts from stakeholders seen in terms of successful electrification, since the first electric bus trial started in Bangalore in 2014.
«With over 70,000 buses above 6 tonne sold in 2017, the Indian bus market represents a significant portion of the 430,000 buses above 6 tonne sold globally. If only a small percentage of these were to be electric, it could easily become the second largest market behind China» highlighted research company Interact Analysis in 2018.