China: new energy bus sales went down 15% in January 2023, new report says
China: in January 2023, the registration of new energy commercial vehicles experienced a decline of 19% from the same period last year. This marked the first year-on-year drop since February 2021 (and follows a records-beating December 2022). Figures and considerations are reported in a paper by Interact Analysis's Research Associate Yvonne Zhang. According to experts, this […]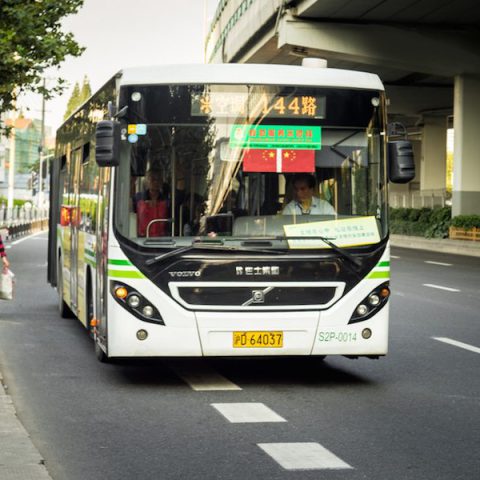 China: in January 2023, the registration of new energy commercial vehicles experienced a decline of 19% from the same period last year. This marked the first year-on-year drop since February 2021 (and follows a records-beating December 2022). Figures and considerations are reported in a paper by Interact Analysis's Research Associate Yvonne Zhang.
According to experts, this was due to a number of negative factors such as the cancellation of national new energy vehicle subsidies, the Spring Festival holiday, and last-minute rush buying in December 2022. New energy trucks and buses saw year-on-year declines of 24% and 15%, respectively.
Battery-electric vehicles, which are the predominant powertrain, experienced an 18% annual drop in sales, while sales of hybrid buses and trucks plummeted by 46% year-on-year to 202 units.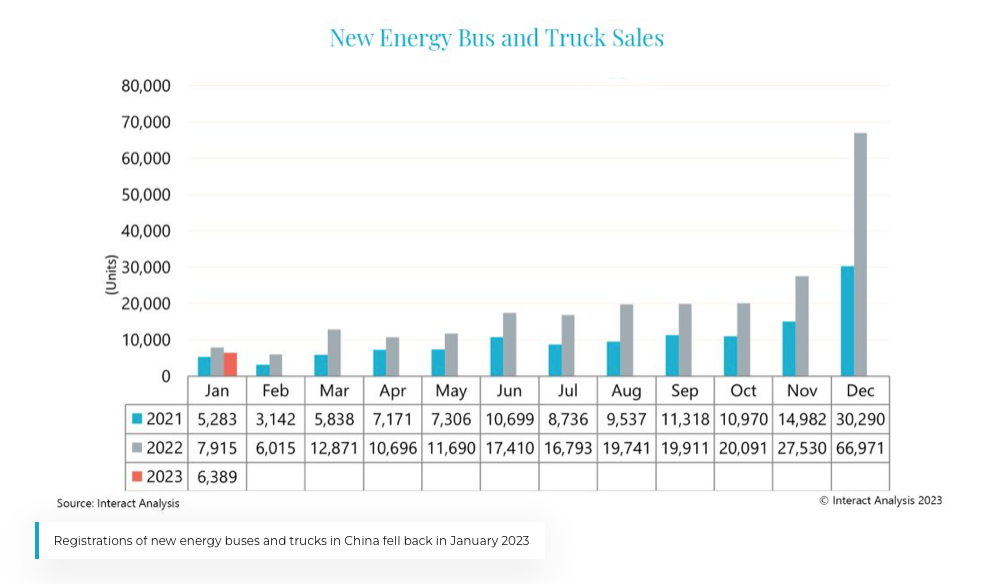 H2 applications on a rise
Despite these declines, there were some positive signs in the market, the researcher says. Fuel cell vehicles were the only powertrain type that witnessed sales growth in January, with sales increasing by 150% year-on-year to 151 units.
This growth was largely due to continuing subsidies for pilot projects. As a result, a total of 13,700 KW fuel cell systems were installed in the month in question, representing a 21% increase from January 2022.
Geely sales of e-buses in China
As the new energy bus and truck market continues to grow, an increasing number of vendors for both new energy vehicles and components are entering the market and invigorating market supply: "Geely – the top OEM in terms of sales for 9 consecutive months – achieved 167% year-on-year growth with the sale of over 1,700 vehicles in January 2023 – the paper reads -. Furthermore, its bus registration sales increased 20 times compared with the same period of last year. In the powertrain component segment, SANY and Vremt entered the top 10 list of battery vendors for the first time, ranking seventh and tenth respectively. Motor supplier Physis – with its light-duty trucks installation – entered the top 10 EV motor list for the first time, ranking tenth in January. Of 11 companies supplying fuel cell systems for buses and trucks in January, Zhongqin Taikang, HYPRIN and Toyota SinoHytec (joint venture between SinoHytec and Toyota Motor) were all new entrants and took places in the top 6."
Source picture: https://enjoyshanghai.com/articles/how-to-take-a-bus-in-shanghai-for-dummies/