Mellor New Orion E23 and Maxima E23 launched: both e-buses meet ZEBRA funding criteria
UK bus manufacturer Mellor is launching two new full-electric vehicles, named New Orion E23 and Maxima E23. They both deliver 23-passenger capacities thus falling within scope of the £120 million Zero-Emission Buses Regional Area (ZEBRA) funding for the provision of up to 500 new British-built zero-emission buses. Both the new Orion E23 and new Maxima E23 are based […]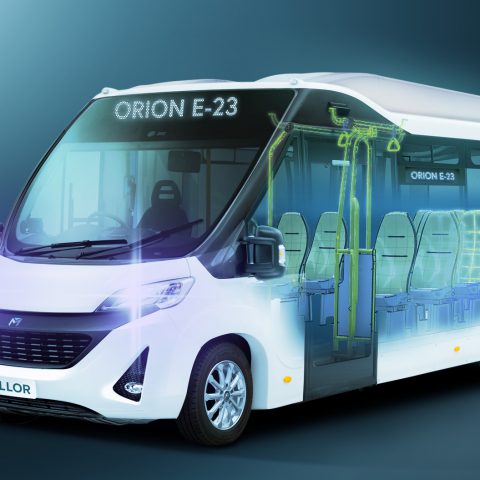 UK bus manufacturer Mellor is launching two new full-electric vehicles, named New Orion E23 and Maxima E23. They both deliver 23-passenger capacities thus falling within scope of the £120 million Zero-Emission Buses Regional Area (ZEBRA) funding for the provision of up to 500 new British-built zero-emission buses.
Both the new Orion E23 and new Maxima E23 are based on existing Mellor products. Orders for Orion E23 and new Maxima E23 are now being taken with deliveries expected to commence in summer 2021.
Mellor Orion E23 and Maxima E23 launched
The DDA-compliant, low-floor Orion E23 has been developed for urban schedule bus services, while the Maxima E23 – also DDA-compliant – will provide a zero-emissions variant of the school-bus offering from Mellor.
Development of the new e-buses has brought together the competences of Woodall Nicholson – the British-based manufacturing group which includes the Mellor, Treka Bus, Coleman Milne and VCS brands. In particular, the group's Promech Technologies business has been instrumental with its lightweighting and drivetrain integration capabilities.
Mellor says it «has seen growing support for its recent 'Big Bus Bias' campaign; the company's response to what it describes as the Department for Transport's (DfT's) short-sighted and restrictive ZEBRA funding for smaller size-appropriate zero-emissions buses. With support from industry bodies, charities and from the Shadow Transport Office, Mellor remains steadfast in its view that the DfT has seemingly withdrawn Local Authorities' ability to choose where to invest in zero-emissions buses – and, therefore, the essential services they deliver».
Mellor, a zero emission solution on a proven platform
"The market has driven our investment into developing our electric product range," said Bus Division Managing Director at Woodall Nicholson, Mark Clissett, "and operators in particular have told us that they want Mellor electric buses in which to invest government funding. With significant investment, innovative engineering and a dedicated, highly-skilled team of designers, engineers and technicians, we can offer a zero-emissions solution on an already proven vehicle platform."
"The addition of full electric variants to our proven Orion and Maxima line-ups," he added, "represents the organic development of our product range. We now have full-electric, zero-emissions buses to offer a size- and cost-appropriate solution for an increasing number of operators who are seeing their usual larger bus services become increasingly unviable."