Up to £58 million available within 2nd phase of ScotZEB (that expands eligibility to coaches)
The Scottish Government has launched the second phase of the Scottish Zero Emission Bus Challenge Fund (ScotZEB), with up to £58 million available. Introduced in 2021, ScotZEB replaced previous funding streams as a means to encourage the bus industry to find new and innovative ways to finance zero emission buses and infrastructure. The second phase […]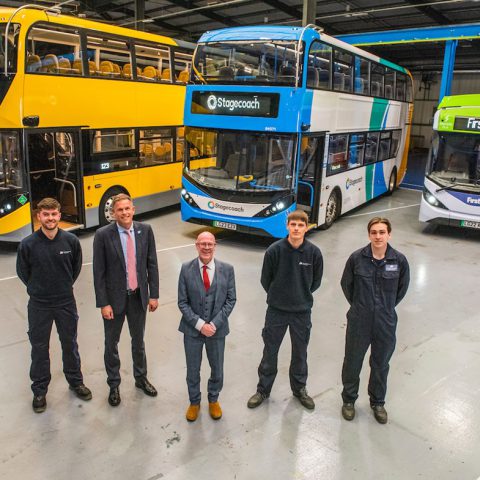 The Scottish Government has launched the second phase of the Scottish Zero Emission Bus Challenge Fund (ScotZEB), with up to £58 million available.
Introduced in 2021, ScotZEB replaced previous funding streams as a means to encourage the bus industry to find new and innovative ways to finance zero emission buses and infrastructure. The second phase expands eligibility to coaches and community transport providers, to accelerate the transition to net zero.
Below, the chart we published on Sustainable Bus magazine February 2023, summing up funding streams for zero-emission buses in the country.

ScotZEB second phase launched
"The industry rose to the challenge of ScotZEB 1, delivering 276 zero-emission buses and bringing the total number in Scotland to nearly 600. By asking operators, financiers, manufacturers and others to work together, the second phase of ScotZEB seeks to rapidly accelerate the adoption of zero-emission buses", Transport Scotland stresses.
Minister for Transport Kevin Stewart said: "The Scottish Government has already invested £113 million towards 548 zero-emission buses and supporting infrastructure, and I'm really pleased to now be making a further £58 million available. Launching the second phase of the ScotZEB Challenge Fund honours this Government's pledge to drive forward a fully decarbonised future for Scotland's buses; supporting operators of all sizes, including community transport, school bus and coach operators to transform their vehicles to zero-emissions and install infrastructure which can be shared with other fleets to help them make the switch too. We all have a part to play in tackling the global climate emergency. Bus is currently one of the most climate friendly transport choices the public can make, and I want to keep it that way for communities across all of Scotland.
Paul Davies, Alexander Dennis President and Managing Director said: "We are delighted to host the Scottish Government's launch of ScotZEB 2 right here in our Larbert facility, which we are currently upgrading to make it a manufacturing centre of excellence for our zero-emission buses. As a proud member of the Bus Decarbonisation Taskforce, we have stepped up to the mark and delivered on the ask to create a small electric bus with our Enviro100EV. We are committed to supporting the just transition of decarbonising transport and funding from ScotZEB will be a welcome support for the jobs the industry offers in our communities as it benefits us and other Scottish suppliers."
Paul White, Director of the Confederation of Passenger Transport in Scotland said: "Bus plays a pivotal role in meeting net zero targets. It is sustainable, flexible, accessible and as the fleet further transitions to zero-emissions, its green credentials only grow. This further round of ScotZEB will help support operator investment in Scotland, which is already leading the charge to Net Zero across the UK. We welcome the scheme and, in particular, its inclusion of coach, which plays a crucial role for many residents and visitors and supports our 'green tourism' ambitions."
David Kelly, Director for Scotland at the Community Transport Association said: "The launch of Phase 2 of ScotZEB is a positive step forward in the community transport sector's transition to zero-emission fleets and in Scotland's Just Transition. We hope this vital funding will build on the success of the Plugged-In Communities Grant Fund to close the Net Zero funding gap faced by local charities, community groups and social enterprises delivering accessible transport solutions across the country. We welcome the changes to Phase 2 which will require consortia to include smaller and non-profit operators and lead to greater investment in community transport. Our members look forward to closer collaboration with partners across the bus sector to ensure no community is left behind in our journey to net zero."