Shell takes over German chargers provider SBRS
Shell Deutschland has signed an agreement with Schaltbau Holding AG to buy 100% stake in SBRS, a wholly owned subsidiary of Schaltbau Holding AG (a provider of charging infrastructure solutions for commercial electric vehicles, including e-buses, e-trucks and e-vans). The transaction is expected to close later in 2022. Shell takes over SBRS Headquartered in Dinslaken, […]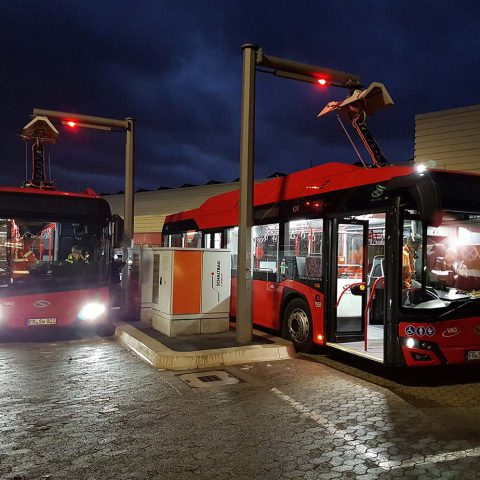 Shell Deutschland has signed an agreement with Schaltbau Holding AG to buy 100% stake in SBRS, a wholly owned subsidiary of Schaltbau Holding AG (a provider of charging infrastructure solutions for commercial electric vehicles, including e-buses, e-trucks and e-vans).
The transaction is expected to close later in 2022.
Shell takes over SBRS
Headquartered in Dinslaken, Germany, SBRS GmbH provides end-to-end engineered solutions for fully integrated electric vehicle charging infrastructure from project conception and construction to maintenance service and monitoring software. The company's current client base includes municipalities, public transport operators, Original Equipment Manufacturers (OEMs) and corporate partners in cities such as Cologne, Vienna and Brussels. Charging infrastructure by SBRS has been implemented in Osnabrück.
The press note announcing the takeover reads: "This acquisition and investment will enable Shell to strengthen SBRS GmbH's leading position in e-bus charging and help it grow rapidly in new segments, including the European e-truck charging market".
"Through this acquisition, SBRS GmbH – a strong and innovative player in commercial EV charging – joins Shell, one of the world's leading providers of fleet management solutions." István Kapitány, Global Executive Vice President of Shell Mobility and Chairman of Advisory Board of Shell Germany said, "This acquisition will enable Shell to offer more end-to-end charging solutions to business customers to electrify and decarbonises their fleets, from depot charging equipment, to charge point management and supplying clean energy. The technology needed to decarbonises commercial vehicles and trucks has matured significantly in recent years, and electrification of fleets through e-trucks and e-vans has emerged as a key solution for many of our business customers. We welcome the SBRS GmbH team to the Shell family".