Stagecoach orders 55 Alexander Dennis DD e-buses for Oxford region
Stagecoach orders 55 Alexander Dennis electric buses for Oxfordshire. Stagecoach and Oxfordshire Council are partnering to reduce emissions in Oxford's transit system, with funding from the UK Department of Transport's Zero-Emission Bus Regional Areas program. Britain's largest bus company will debut the 55 electric Enviro400EV buses on their Oxford city and county networks in late […]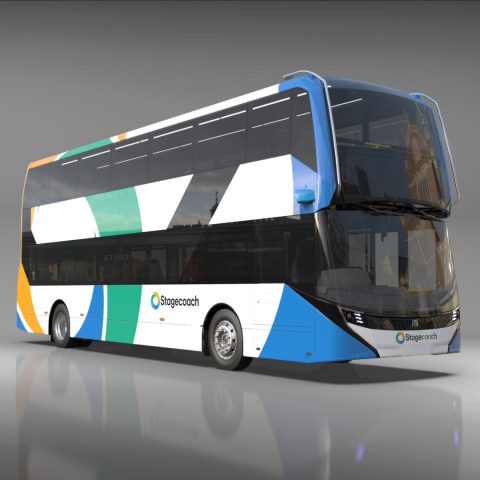 Stagecoach orders 55 Alexander Dennis electric buses for Oxfordshire. Stagecoach and Oxfordshire Council are partnering to reduce emissions in Oxford's transit system, with funding from the UK Department of Transport's Zero-Emission Bus Regional Areas program.
Britain's largest bus company will debut the 55 electric Enviro400EV buses on their Oxford city and county networks in late 2023, marking the first order for the new double-decker electric bus, fully designed and built by Alexander Dennis (without involvement of BYD, that is however still providing chassis and battery technology for a jointly-realized range).
Stagecoach orders Alexander Dennis electric buses
The Enviro400EV is a battery-electric double decker to move large numbers of people on busy urban corridors and interurban expresses with an operational range of up to 260 miles on a single charge, ADL says.
The Enviro400EV uses a Voith Electrical Drive System driveline as well as the Alexander Dennis battery system, "which ensures continuity of supply throughout vehicle life and will allow Stagecoach to benefit from technology advancements at a mid-life refresh without the need for vehicle modifications", manufacturer says.
Sam Greer, Engineering Director for Stagecoach, said: "We're pleased to be continuing our commitment to move to a zero-emission UK bus fleet by becoming the first operator to make major investment in the new fleet of Enviro400EV buses to operate on our services in Oxford. We have a positive track record of working with Alexander Dennis to decarbonise our fleet across the country, including in Scotland where we will shortly be introducing the UK's first all-electric bus cities. We look forward to working with Alexander Dennis and our partners in Oxfordshire to roll out these new electric buses as part of the important plans to improve air quality in the region."
Paul Davies, Alexander Dennis President & Managing Director, says: "Our new Enviro400EV has been uncompromisingly designed to meet the requirements of bus operation in the UK, introducing latest advances in technology including our future-proof battery system while guaranteeing first-class aftermarket support throughout the vehicle's life with AD24. We are delighted to have our long-standing partner Stagecoach as the launch customer for the next generation of battery-electric buses, partnering with us to lead the future success of our bus and coach industry. This investment keeps funding from the Government's ZEBRA scheme in the country, improving the lives of passengers and residents as well as accelerating decarbonisation."