Transdev begins service in northern Stockholm (with 110 biodiesel-powered buses and 5 e-buses)
Transdev took over bus services in Norrtälje in the northern part of Sweden's capital Stockholm, on behalf of SL, the regional transit authority, until 2031. About 110 new Volvo buses, including 25 double-deckers, will run on the express line between Norrtälje and the Technical University in Stockholm city. In addition, five new electric buses were […]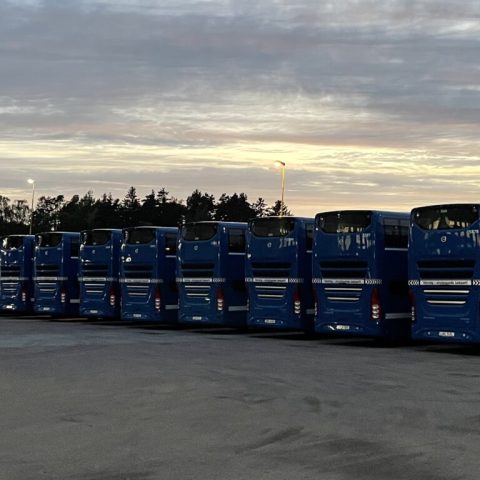 UPDATE 13TH SEPTEMBER: The buses are powered with biodiesel, as Sustainable Bus apprehended from an e-mail from Transdev spokesperson. Headline changed accordingly
110 buses running on fossil-free fuels in Stockholm
All the new buses are set to be accessible and offer good comfort for passengers with USB sockets at each seat and free WiFi. The buses also collect valuable data that can be processed to make traffic run more smoothly and to help buses arrive and depart on time.
Transdev currently operates bus services in Märsta, Sigtuna, Upplands Väsby, Vallentuna and Norrtälje as well as Roslagsbanan commuter rail on behalf of SL. From November 2022, Transdev will also operate bus services in Täby, Vaxholm, Österåker, Danderyd and Norrtälje.
Mattias Galante, responsible for the Norrtälje start-up project at Transdev Sweden, says: "On the whole, the start-up has gone well, but there has been a bit of a break-in with new buses, new technology and some new temporary staff. Despite the initial problems with the signage on some buses, it feels great to be able to deliver a good public transport service with high accessibility from day one with nice fresh buses for our passengers and employees. A bus is no longer just a vehicle to transport passengers from one place to another. Through sensors, they now collect lots of data about how we drive, how many people are on the bus, whether there are traffic disruptions, whether we are on schedule and so on. Data that we deliver every second to our customer, SL, to improve real-time information for passengers but also to better adapt the timetable and supply to actual needs".