Turin is renewing the tram fleet. All the features of the new Hitachi vehicles for GTT (first one now being tested, 70 to come)
After 19 years from the delivery of the last vehicle (the delivery of the 6000 series ended in 2003), the modernization of the tram fleet began in Turin (Italy). The municipal carrier GTT has signed a framework agreement with Hitachi Rail in May 2020 for the supply of 70 new trams, worth over €60 million. […]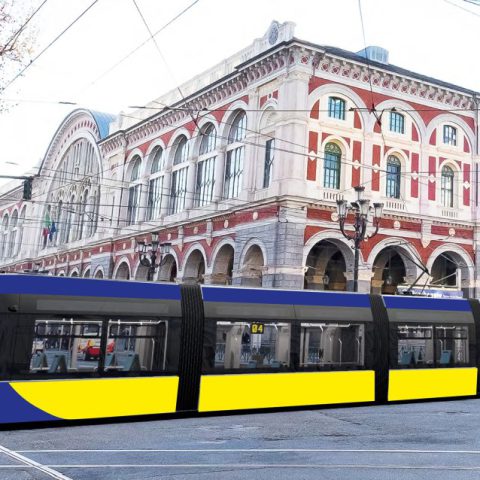 After 19 years from the delivery of the last vehicle (the delivery of the 6000 series ended in 2003), the modernization of the tram fleet began in Turin (Italy).
The municipal carrier GTT has signed a framework agreement with Hitachi Rail in May 2020 for the supply of 70 new trams, worth over €60 million. A first supply of 30 trams was commissioned (with a guarantee of up to 5 years from delivery). The new platform developed by Hitachi is the evolution of the previous Sirio model, already in operation in Milan, Bergamo, Florence, Naples.
The first vehicle arrived in Turin on 10 February 2022, and tests for commissioning are currently underway.
A look inside the new Hitachi trams for Turin
The new vehicles, which will be registered in the new 8000 series, are 28 meters long, are divided into 5 modules, and despite being shorter than the trams of the 6000 series, have cutting-edge technical characteristics, including an exceptional capacity, thanks to a particular study of the layout of the interior furnishings, being able to accommodate up to 254 passengers of which 218 standing and 36 seated. There are two stations for the disabled.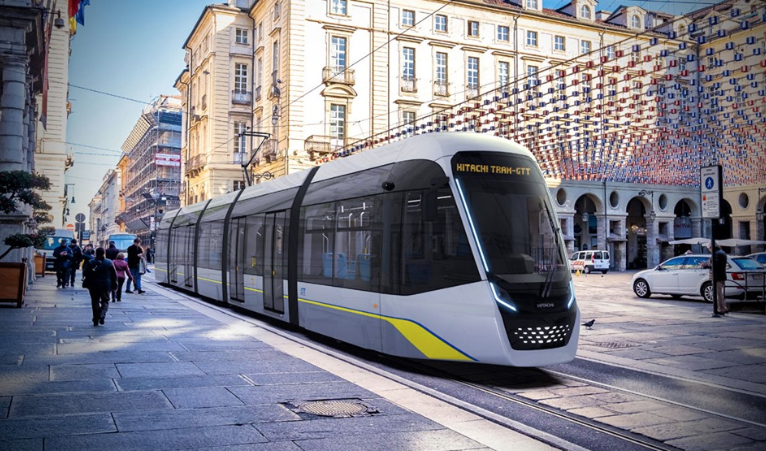 Access is allowed by 4 large ejection doors on the two intermediate modules. The natural lighting is very accurate, thanks to the large windows, the transparency of the side parts of the roof of the vehicle, which ensure good brightness inside and good visibility outside; lighting and air conditioning systems are evenly distributed along the compartments to allow maximum comfort to passengers.
New trams being delivered in Turin
The driver's cab is isolated from the passenger environment and offers maximum visibility to the driver.
The livery takes up the yellow-blue colors that represent the city of Turin, and ensures continuity with the new diesel and electric buses of the most recent generations, blue on the front and yellow on the sides. The interior design was curated by Giugiaro Architettura. The floor is blue, the seats blue and yellow.
Information to the public will be guaranteed thanks to the now indispensable high visibility displays. The maximum speed that can be reached is 60 km/h.
The new rolling stock will be produced at Hitachi Rail's plants in Naples, Pistoia and Reggio Calabria.
Trams in Turin: a valuable network
Turin boasts one of the most important networks at Italian level, with diametrical lines that perform a valuable function of connection between the center and the suburbs.
A renewal is certainly necessary. The rolling stock is currently made up of 55 articulated of the 6000 series of the early 2000s, 53 two-axis cars of the 5000 series of the 90s and about sixty articulated of the 2800 series, reconstruction of trams of the 20s, with high floor, therefore not accessible to impaired users, and without air conditioning.
by Stefano Alfano