Two ADL – Kiwi e-buses for Transdev in Auckland
Alexander Dennis Limited will build two electric buses for Howick & Eastern by Transdev's operation in New Zealand. They will be used on Auckland Transport services. The three-axle single deckers will be assembled locally in New Zealand by ADL's partner Kiwi Bus Builders. ADL strengthens it has designed the 12.6m long BYD ADL Enviro200EV XLB […]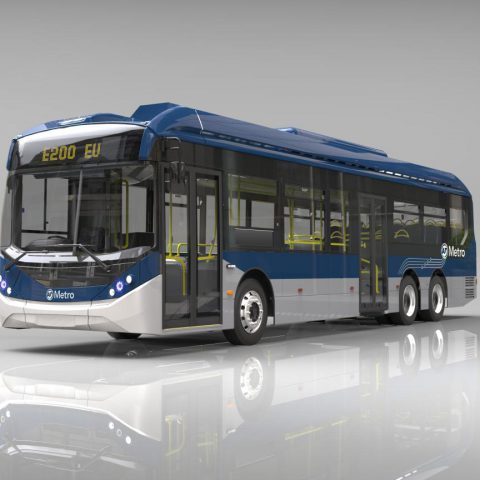 Alexander Dennis Limited will build two electric buses for Howick & Eastern by Transdev's operation in New Zealand. They will be used on Auckland Transport services.
The three-axle single deckers will be assembled locally in New Zealand by ADL's partner Kiwi Bus Builders. ADL strengthens it has designed the 12.6m long BYD ADL Enviro200EV XLB for the specific requirements of bus operation in New Zealand, allowing it to carry 78 passengers without requiring an overweight permit. It uses latest BYD iron phosphate battery and driveline technology, with dual AC and DC plug charging adding operational flexibility.
New Zealand to transition bus fleet to zero emissions by 2035
New Zealand is preparing to fully transition its bus fleet to zero emission vehicles by 2035 as part of a wider set of measures intended to help meet the country's 2050 carbon neutral target.
Howick & Eastern by Transdev General Manager, Sheryll Otway, said: "The future for zero-emission transport in New Zealand is exciting and Howick & Eastern by Transdev is proud to be an ongoing part of this incredible journey, with the commissioning of these buses. None of this would be possible without the support, vision and investment of Auckland Transport. We are certainly looking forward to working together over the coming years as we work together on providing zero-emissions public transport to the people of Tāmaki Makaurau."
Transdev New Zealand Managing Director, Greg Pollock, said: "Howick & Eastern by Transdev opted to commission ADL to build our second and third electric buses because the company's factory is in New Zealand. This was a logical decision for us to make, given Transdev's commitment to New Zealand, and to expanding our operations here, where we already operate metro rail and bus services in both Auckland and Wellington, as well as a transport on demand trial in Auckland."
Richard Drummond, Managing Director of Kiwi Bus Builders, said: "Howick & Eastern's order underlines our plans to support up to 100 local jobs with the assembly of electric buses in partnership with ADL, as we scale up our production to meet demand from Auckland Transport and elsewhere in New Zealand as the transformation to a zero emissions fleet gets under way."
ADL's General Manager for New Zealand, Tony Moore, said: "We are delighted to extend our successful relationship with Howick and Eastern to clean electric buses which have been tailored to the requirements of bus operation in this country. This would not have been possible without the close collaboration with Kiwi Bus Builders as well as with the team at BYD Australia."