Solaris to launch a new 9-meter electric midibus this year. Take Mateusz Figaszewski's word for it
Solaris is ready to launch a new version of the 9-meter electric midibus Urbino Electric. It has been revealed by Mateusz Figaszewski, Director of E-mobility Development at Solaris Bus & Coach, during a video interview with Sustainable Bus. «This year we plan to launch a new 9-meter electric midibus. This premiere will come in a few […]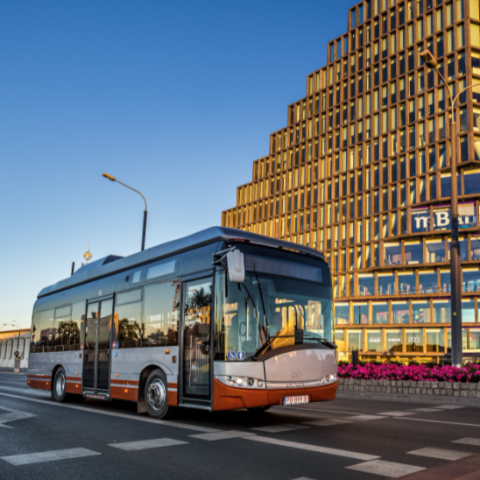 Solaris is ready to launch a new version of the 9-meter electric midibus Urbino Electric. It has been revealed by Mateusz Figaszewski, Director of E-mobility Development at Solaris Bus & Coach, during a video interview with Sustainable Bus.
«This year we plan to launch a new 9-meter electric midibus. This premiere will come in a few months. We needed to rescheduled a bit our timing concerning the launch as this year exhibitions were cancelled, but the launch will be done by the end of 2021», Figaszewski said.
The rise of alternative drives…
The company is sponsor of the Sustainable Bus Tour 2021 and has taken part to the webinar "The electric depot. Charging and managing large e-bus fleets", scheduled for tomorrow, 6th of May.
Topics of the interview: the increase of alternative drives' share in the company production volumes (44% in 2020), leadership in the European electric bus market, approach to charging strategies, product launches, the new course of trolleybus projects, the future role of hydrogen in public transport.
Last year Solaris recorded a particularly impressive growth in sales of buses with low- and zero-emission drives. In 2018, hybrid buses, e-buses and trolleybuses constituted in total 29% of all vehicles sold by the manufacturer. In 2019, this figure stood at 40%. This trend was continued in 2020 leading to the number of sold vehicles with alternative drives growing to up to 44%. Dynamic growth in the share of electric buses in the production and sales mix of Solaris is consistent with the long-term development strategy of the firm, as well as of the whole CAF Group, which has been the owner of Solaris since 2018.