33 new Skoda trolleybuses for the city of Ústí nad Labem
Thirty-three Skoda trolleybuses, model 27Tr, for transport in the Czech city of Ústí nad Labem: the order for the modern low-floor vehicles, which is based on a previous cooperation with the transport company, will exceed CZK 650 million, about twenty-six million euros. Compared to the vehicles already in operation, the trolleybuses have two traction motors […]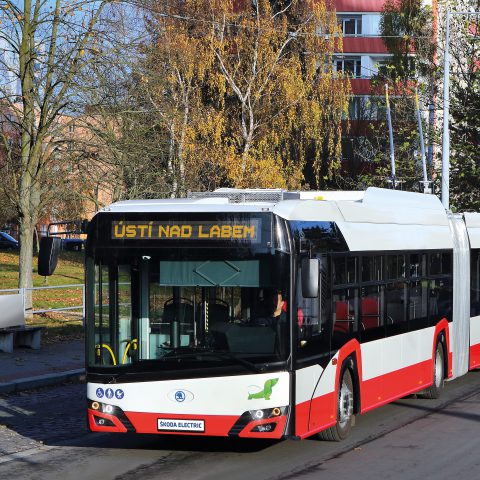 Thirty-three Skoda trolleybuses, model 27Tr, for transport in the Czech city of Ústí nad Labem: the order for the modern low-floor vehicles, which is based on a previous cooperation with the transport company, will exceed CZK 650 million, about twenty-six million euros.

Compared to the vehicles already in operation, the trolleybuses have two traction motors and two driving axles. This solution will enable smoother driving on the hilly terrain of Ústí nad Labem, especially in bad weather conditions.
The new trolleybuses will offer a high level of travel comfort: they are air-conditioned, both in the passenger compartment and in the driver's cabin; there is also an information system for better passenger navigation. To further facilitate boarding, the vehicle is equipped with a "kneeling" system. There will be space for wheelchairs or baby carriages. There is also a modern camera system to provide an overview of the interior of the vehicle and its surroundings.
«With this contract, we are continuing the successful cooperation between Škoda and the Transport Company of the City of Ústí nad Labem. Our advantage is that we know our client and his specifics, and thanks to this we can offer exactly the solution the Transport Company of the City of Ústí nad Labem needs. Our reliable trolleybuses are purchased by customers in many Czech and European cities. The advantage of this type is that it can also run off the catenary on battery power, which makes it possible, for example, to bypass unexpected traffic situations or enable the ride for non-electrified area», says Tanya Altmann, President of the Bus Mobility Division at Škoda Group.
«These are three-axle, four-door, low-floor joint trolleybuses, designed for urban public transport, with a capacity of 115 passengers. Passengers will appreciate the full-vehicle automatic air-conditioning, USB chargers or stainless-steel handrails in a brushed finish. Also, worth mentioning are features contributing to traffic safety such as tyre pressure monitoring, pedestrian collision control, blind spot monitoring, electrically heated windscreen and many more. We are trying to continue with a consistent interior style. The seats will have a grey plastic shell with red leatherette seat cushions. Ústí nad Labem is specific to its rugged terrain, so the trolleybuses will have two drive axles with a total power of 250kW, which will be an advantage especially in winter. The price of one delivered trolleybus is CZK 20,350,000 excluding VAT», said Simona Mohacsi, Executive Director of the Transport Company of the City of Ústí nad Labem.